Media playback is unsupported on your device
Media captionKatie Price: "The trolling is so bad, it is ridiculous, something has to be done."
There has to be "some kind of justice" for those who are bullied online, ex-model Katie Price has told MPs.
Appearing virtually at the Commons Petitions Committee, the reality TV star said trolling was getting worse because there were "no consequences".
Ms Price spoke about the abuse her disabled son Harvey has received, as part of an inquiry into the issue.
The PM has said the government is "working at pace" on new legislation against "online harms".
But Lord Puttnam, chairman of the Lords Democracy and Digital Committee, said earlier this week that the government's landmark online protection bill could be delayed for years.
The Online Harms Bill may not come into effect until 2023 or 2024, he warned. The government, however, said the legislation would be introduced "as soon as possible".
The petitions committee say they want to end online abuse, especially as more people spend time online in lockdown.
'Racial abuse'
MPs are calling for evidence as part of their new inquiry, "Tackling Online Abuse", from campaigning organisations, legal professionals, social media companies and other experts.
Speaking to MPs, Ms Price – who used to be known as Jordan – said: "Throughout the years I get a lot of trolling and online abuse, the difference is I'm able to speak out myself, but my son Harvey was born with disabilities, he gets a lot of racial abuse, disgusting despicable things.
"He gets memes made about it, TikToks, posters, he gets mocked in such a serious disgusting way, there has to be some kind of justice."
She suggested to MPs that social media companies should carry out ID checks on users and there should also be fines.
Her mother, Amy, told the meeting there should be an online register of offenders.
Image copyright
PA Media
Image caption

Katie Price with her son Harvey in 2018, who was trolled online because of his disabilities

"People think it's funny to show to their friends, there is no penalty, they might get their account closed down but they open it in another name or another email address and carry on," Ms Price said.
"Nothing has improved, thing have got worse."
'Big problem'
Ms Price added: "There needs to be fines in place, there needs to be consequences… if there are consequences online people will be careful because there will be fines or they will be put on the register, it might not stop everything but it might make people start thinking."
Ms Price first appeared before the Petitions Committee in 2018, after more than 220,000 people signed her petition to make online abuse a criminal offence.
Committee chairman Catherine McKinnell said: "It is clear there is a big problem, it is getting worse, not better and something needs to be done."
She said the government had looked into the issue and a proposal document – a white paper – had been produced.
She said the work had stalled because of the coronavirus pandemic but the committee was now attempting to raise profile of the issue and its "urgency".
The MP said the committee will be taking evidence from social media companies as part of the inquiry.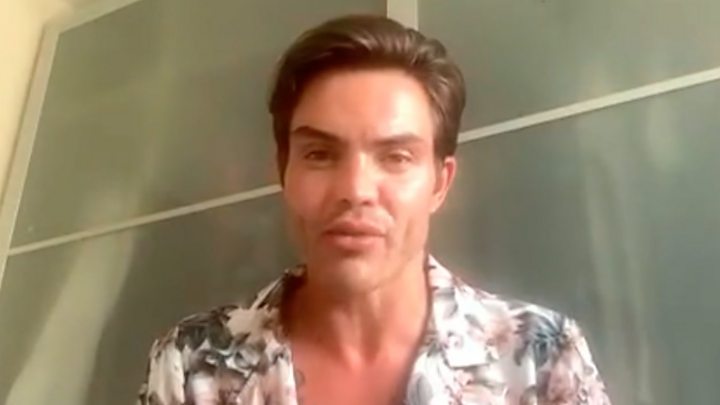 Media playback is unsupported on your device
Media captionTowie's Bobby Norris sees 'terrifying rise' in online abuse
It comes after The Only Way is Essex star, Bobby Norris, spoke to MPs to share his experiences with homophobic abuse.
More than 133,000 people signed his petition on tackling trolling.
Addressing the issue of "online harms" in the Commons last month, Prime Minister Boris Johnson said: "There is a real risk that, during the lockdown, terrible things have been going on behind closed doors and closed curtains in this country on the internet.
"We had a summit on the matter in Number 10 recently, and we are working at pace, as he knows, on new legislation against online harms."
Elsewhere, Ofcom's boss has said the watchdog will not hesitate to impose fines on social media firms who fail to deal with harmful content, if, as expected, it is appointed as regulator.
Chief executive Dame Melanie Dawes said Ofcom would also consider temporarily suspending platforms in extreme cases of harm.