On or around September 28, Glacier soccer coach Ryan Billiet received a message from one of his top players, Sam Ells, that he might miss training that day because of a sudden change in his training schedule: he was on his way to one Cross country get-together in Whitefish.
All right, thought Billiet, whose team swapped Ells back and forth with Cody Moore's wolf pack harriers. It's just a practice.
Then, when Ells showed up about halfway through, Billiet thought the meeting was canceled.
"I just put it into practice right away," said Billiet. "Then the next day I read the newspaper and thought, 'Wait. Did you race yesterday? '"
In addition, Ells won for the third time in four starts.
"It's pretty extraordinary to win this race and show up at soccer practice," said Billiet. "He got involved and started touching something and helping us prepare for this Big Sky match."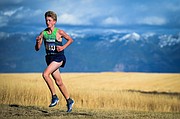 With three goals and five assists, Sam Ells is one of the seven best point getters on the 9-1-2 Glacier soccer team. What's even more impressive is that he has the second fastest time among Montana High School cross country runners after winning the Butte Invitational on September 24th in 15 minutes 41.4 seconds.
He has a grade point average of 4.0 and dreams of becoming an engineer. Then he sleeps. When he sleeps.
"He's a quiet kid," said Moore. "Super respectful. Pretty humble and a leader by example. Easy to coach a really fun, happy kid. He just likes to train hard and runs fast. "
But so fast? A year ago, Ells finished 30th at the State AA meeting, his time suffering from a hip injury. Given that experience, you wouldn't blame an athlete for choosing a sport.
Instead, Ells doubled in size.
"We met as a team three or four days a week over the summer and Sam was very consistent about it," said Moore. "And that was in addition to playing soccer in the summer. We set some goals and had some really good conversations to see where his heart hangs.
"That was a turning point I think."
Ells did not contest Glacier's first scheduled meeting, but took first place in the Flathead Invitational on September 10 at 3: 53.67 p.m. Two weeks later he cruised to victory in Butte and broke Simon Hill's school record (15:46).
"It's not easy at 5,000 feet," said Moore.
When asked what causes more endorphins, breaks the ligament, or finds the back of the web, Ells pauses.
"I think a good race feels better," said the senior shortly after winning the Glacier Invitational on Wednesday. "But you know, they're both up there. Scoring a goal and winning a soccer game, especially when it's close, feels pretty good too.
"Best of both worlds."
Ells says he got his bikes from his mother; the former Brooke Daehlin ran for the 1994 Montana State Big Sky Conference masterful cross-country team. Given that pedigree, he would be a threat to what he does. And yet…
"It's definitely been surprising this year so far," said Ells. "I didn't expect it to come to that."
If he was shocked by his time in Butte – only Tanner Klumph from Missoula Sentinel ran faster and not since the beginning of September – a coach is surprised differently.
"He's the most talented kid I've ever coached," said Moore. "I ran kids in their mid-15s and went to Division I, but those kids only focused on running. Sam runs half the volume. It's pretty incredible. "
Ells missed soccer games this year, especially the second Crosstown, so he could run and score the best time at Helena's 7v7 meeting on October 7th.
Last Saturday he was at the Rattlesnake Fields of Missoula and faced the much-touted Hellgate Knights.
"We had our center-back early on," said Billiet. "And another injured player in defense. Sam actually had to take on another position for him, the defensive midfielder. And he played that for 60 minutes and helped shut Hellgate out. What we've never done before. "
It was a 0-0 draw. Nobody had kept the Knights, winners of five of the last six State AA titles, goalless in 80 games in 2016.
"They usually find a way to put something away," said Billiet. "And we were missing two starting defenders."
Ells is running for college, and his first two choices are engineering programs: Gonzaga and MSU.
What a difference a year makes. Last October, he suffered a touchless injury in a playoff soccer game that forced him out of Glacier's semi-final defeat to Hellgate and slowed him down in the cross-country final.
"It was at Legends," said Ells. "I just stepped on the ball and it was my hip flexor. I think I somehow got stuck in the lawn and overstretched it. I heard a pop. Didn't feel so good. "
Abandoning football in 2021 was out of the question.
"No," said Ells. "I was looking forward to my senior year."
"Never," said Billiet. "We want to support children and enable them to make decisions. These are well-founded decisions based on a player-centered philosophy. "
"That balance is really tough," admitted Moore. "I did the same thing myself in high school and I think Sam is doing a lot better than I've ever done."
Four AA runners are currently below 4:00 p.m. including Klumph and Ells: Hellgate's Finneas Scott, who ran at Butte 15: 47.6, and Missoula Sentinel's Chase Green.
State is October 23 on the University of Montana golf course, Missoula.
"He's gone from being a top 10 contender to being a conversation for a single title," said Moore. "I think after his spring track season when he ran 4:18 on the mile and finished third, the conversation went from 'Hey, you can be a threat to the podium' to 'You can possibly be a state champion . '
"From a good senior season to an outstanding senior season."
Ells, who cooled down from his fifth win in seven starts on Wednesday, understands that. But first things first.
"I'll have soccer practice later today," he said.