Expensive Dowry: Helicopter, N1.4bn, 4 Female Celebrities Named Amount to Be Paid Before Getting Married
Women have long been excluded from discussions about what men should offer their families before allowing them to marry them
However, many female celebrities have come out to determine what men should pay as dowries before agreeing to the marriage idea
Elsa Majimbo said she must get N1.4 billion (KSh 400 million), Pritty Vishy stated she wanted N716 million (KSh 2 million) while Justina Syokau said a man must have a helicopter
The dowry was historically a traditional event reserved for men and elders in the community to determine what a man of a woman's family would offer before getting the go-ahead for her marriage.
Comedian Elsa States. Photo: Elsa States.
Source: Instagram
However, we live in a woke society that has empowered women, who are now coming out, to determine how much they should receive as dowries.
Woman in US military uniform dances to Buga during working hours, pretty video causes reactions on the Internet
While some people think their demands are outrageous, society has commended such women for being brave and knowing their worth.
Here are four Kenyan celebrities who have openly voiced their demands and let men decide if their pockets can run that deep.
Have a groundbreaking story you want us to publish? Please reach us at [email protected]!
1. Elsa States
US-based Kenyan comedian Elsa Majimbo was trending for days after she explained on national TV what a man has to cough before he proposes to marry her.
The funny lady added that if a man approaches her and proposes, she would expect him to dish out 400 million KSh as a dowry, N1.4 billion.
"I expect that someone who is broke or has no money will not approach me. First off, my dowry is KSh $4 million," she said.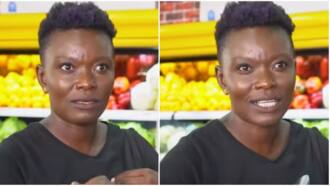 Actress Ebby Weyime says she wants to enjoy life, get married at 50, no kids
Majimbo never retracted her words and has since made her mark on the US entertainment and fashion scene.
2. Pritty Vishy
Stivo Simple Boy's immediate ex-lover Pritty Vishy shocked people after she revealed that a man who wants to marry her has to pay a dowry worth KSh 2 million, N716 million.
"My dowry is 2 million KSh and I don't want any cows. It's not much, since you know your worth, setting your standards is a must," she said.
Pritty also remarked that she could cook and clean but could not go to the farm to till the land and wanted her husband to understand that she was a wife and not a worker.
3. Justina Syokau
Gospel singer Justina Syokau also joined the little girls bandwagon, sharing that she's only interested in dating rich guys.
Speaking about the kind of man she desires, the Twendi Twendi hitmaker shared:
He has been married for 6 years: parents drag their son to court for not giving them grandchildren, demanding N270m
"Like this year I said if a man doesn't bring gold, Mercedes Benz and things like a helicopter, I mean things of value. If it's clothes, I've worn 50,000 KSh worth. Surprise me to Dubai," she said as she pointed to show how she wanted to travel outside of the continent.
4. King Kalala
Radio host King Kalala was also loud enough to tell people how much it will cost to have her as a wife.
NRG Radio presenter Kalala sparked a heated debate online after she said she was demanding KSh 12 million as a dowry, N1.4 billion.
The celebrity posted a picture of herself in the studio and asked her fans if she might be out of line with the demands.
The bride's family asks the groom to cook before taking her away
Legit.ng reported that a man recounted how he and his family were completely confused after they were asked to cook food for the dowry ceremony they attended.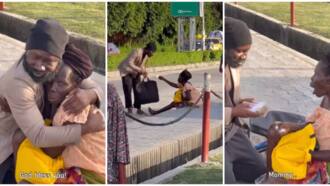 Grace found her: A Nigerian woman finds a beggar on the street and gives her 100,000 Nash as a video for her kindness to him
Nahashon and his family traveled all the way from Murang'a to Makueni for his uncle's dowry event, but upon arrival they were told that they would have to cook for themselves and other guests, as is Akamba culture.
Speaking to a trusted Kenyan news outlet, Tuko, the man said they had with them some items that the in-laws had asked of them and although they had been told they were the ones preparing the meals, they believed they were a joke.
Source: Legit.ng