Venue:
Tokyo, Japan
Events:
August 24-September 5
Time in Tokyo:
BST +8
Cover:
Follow on Radio 5 Live and on the BBC Sports website
Neil Fachie said it was "beyond our dreams" after he and his wife Lora won Paralympic cycling gold in 16 minutes.
The success of the Fachies was part of a great Saturday for the British team, which won a total of seven gold medals.
Neil and Pilot Matt Rotherham broken their own world record to beat teammates James Ball and Lewis Stewart for gold in the B 1,000m time trial.
They beat their old time of 59.278 seconds to a new mark of 58.038 to give Neil his second Paralympic gold after winning with Barney Storey in London in 2012.
And shortly afterwards Lora and Corrine Hall successfully retained her B 3,000m pursuit crown.
The pair qualified the quickest for the final, also set a world record and finished the final just under two seconds ahead of Irish Katie-George Dunlevy and Eve McCrystal with the British Sophie Unwin and Jenny Holl Win bronze.
In the last track cycling event of the games, there was victory in the mixed team sprint Kadeena Cox and Jaco van Gass winning her second title in Tokyo and Jody Cundy claimed his eighth Paralympic career win.
The team had qualified second fastest for their decision to face China, and after Cox put down a dazzling opening lap to give them a narrow lead, first Van Gass and then Cundy held up the pressure to win 0.106 seconds.
There was too a second gold medal for swimmer Maisie Summers-Newton when she finished fourth with her teammate Ellie Simmonds after winning the SM6 200 m individual medley on Thursday by winning the SB6 100 m breaststroke final.
The S14 4x100m freestyle relay from Reece Dunn, Bethany Firth, Jessica-Jane Applegate and Jordan Catchpole then won the opening session of the event at Paralympics.
sprinter Sophie Hahn retained her T38 women's 100m title to maintain her unbeaten record at the World Championships shortly after her debut Thomas Jung won GB's first track and field gold medal in Tokyo with a new personal best in the men's T38 100 meter final.
Share the moment together
Lora and Neil Fachie hug after their award ceremony at the Izu Velodrom
Neil and Lora had mixed experiences in London 2012 and Rio 2016, with Tokyo, the first Paralympic Games, in which both reached the top step of the podium.
Neil, 37, started his career as a sprinter in Beijing before switching to his bike and winning gold and silver in London and silver in Rio. Lora, 32, could not win a medal in London, but four years later she won gold and bronze with Hall.
"There are days that are good in relationship and there are days like today that we will never forget," Neil told BBC Breakfast.
"We knew that this day would be our big one. It was the same in Rio: Lora got gold, I got silver. Back in London I got gold and missed Lora.
"Of course we are happy for each other, but when you are the one who wins it is more difficult because you know how much the other hurts.
"So we finally managed to make it both together, and breaking the world record is beyond our dreams.
"We were hoping this would happen, but it's overwhelming that it actually comes together."
Lora was born with an inherited eye disease and lost her sight at the age of five – she had to leave the guide dog Tai at home while she traveled to Tokyo.
Despite her vision loss, she is an avid cook and writes a food blog in her spare time.
"We want everyone to win, but it doesn't change anything if we don't. It was great to see Neil and to drive an absolutely great time," she said.
"It is much more stressful to watch someone who is dear to you than to do it yourself."
While Neil's Paralympic program is over, Lora will be back in the tandem road race on Tuesday and the time trial on Friday.
GB wheelchair rugby team set for final
the British wheelchair rugby team reached their first Paralympic final with an exciting 55-49 win against hosts and world champions Japan and will face the USA on Sunday (10:00 CEST) after beating reigning champions Australia 49:42.
Elsewhere, defending champion of table tennis class 7 Will Bayley is guaranteed at least silver after saving the match point to defeat China's Liao Keli 3-2 and advance to Sunday's final. There are bronzes for Tom Matthews (Class 1), Jack Hunter-Spivey (Grade 5) and Paul Karabardak (Grade 6) who all lost their semifinals.
Micky Yule, who lost his legs while serving in the British Army in Afghanistan in 2010, won bronze in the 72kg event in powerlifting.
And wheelchair fencers Dimitri Coutya won his third bronze medal – this time in the Foil B event.
But GB was no joy on the opening day of the triathlon Fran Brown Fourth in the women's PT2 event and the same result for Alison Peasgood and leaders Nikki Bartlett at the women's PTVI race. In the men's PTVI race there was heartbreak for Dave Ellis and leaders Luke Pollard who suffered a broken bicycle chain.
the Women's basketball team their first win of the tournament with a 75-38 win over Australia to secure a spot in the quarterfinals. A late free throw from Harry Brown gave the Men's basketball team a 64-63 win over defending champions USA to take two out of three wins in the group stage.
World clock
In the men's PTVI triathlon, American Brad Snyder won Paralympic gold in his second sport.
Snyder went blind in September 2011 after stepping on an explosive device while serving in the US Navy in Afghanistan. A year later he won gold and silver twice in swimming in London in 2012.
He followed with three gold and silver medals in Rio before switching to para-triathlon in 2018, when he and guide Greg Billington beat their Spanish rivals by 55 seconds.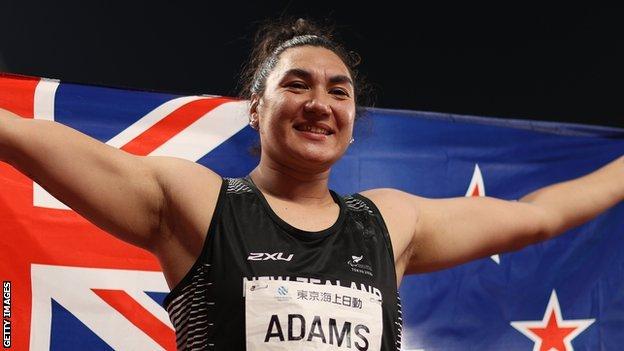 Adams only started para athletics in 2018 at the age of 28
New Zealand's shot putter Lisa Adams made a big impression on her Paralympic debut with gold.
Adams is trained by her sister Valerie, the four-time Olympic medalist, and her best throw of 15.12m in the F37 event saw the family take more silver.
And one of the stars of the Netflix movie Rising Phoenix, wheelchair fencer Baby saw, retained their title of slide B.
The Italian fell ill with meningitis at the age of 11, both forearms and both legs of her knee were amputated.