The US dollar continued to lose modest against other major currencies, as evidenced by the performance of the USDX, which measures the strength of the greenback against a basket of other major currencies. In emerging markets, too, many pairs continued to decline against the dollar, such as the USD / TRY and USD / ZAR pairs. However, USD / INR rebounded from Tuesday's low and traded higher on Wednesday morning.
A moderate reversal was seen in the crypto markets, with total market capitalization falling to around $ 2.15 trillion by Wednesday morning, with Bitcoin failing to hit well above $ 50,000 and even falling below $ 48,000 for a short time. Ethereum also failed to hold the $ 3.3,000 mark, but bounced back above $ 3.2,000 by Wednesday morning. With a relatively stronger reversal in some altcoins like Ripple and Dogecoin, which fell back below $ 0.30, BTC dominance was again valued at over 42%.
Sentiment in the equity markets was mixed, with indices such as the US Tech 100 and India 50 (USD) breaking new all-time records while others such as the US 30 and Italy 40 trading moderately lower. The volatility index VIX remained relatively unchanged and is still trading a little lower in the continuous futures contract than it was a month ago.
The German ifo survey on the current situation and economic sentiment will be published on Wednesday. From the USA, data on incoming orders for durable goods and weekly energy market data from the EIA are expected.
EUR USD
The EUR / USD pair moved only marginally higher due to the ongoing dollar weakness. While pairs like EUR / CHF and EUR / GBP stabilized, some others like EUR / CAD and EUR / AUD moved down again.
Fundamentals were positive overall, as German GDP for the second quarter rose unexpectedly faster than expected by 9.4% year-on-year, while in the US the sales statistics for new homes for July showed robust demand of 708 thousand compared to 676 thousand last year showed month.
Some of the more important stats this week could be personal income, consumer spending, and PCE price index data due Friday. Before that, on Thursday in the US, business climate data from France and company profit statistics after tax will be released.
gold
Precious metals traded quite mixed on Tuesday, with gold and platinum prices falling moderately while silver and palladium continued their uptrend that began earlier in the week.
Gold prices continued to move down slightly until Wednesday's European trading session began, touching potential resistance levels from about a week ago.
In principle, like the 10-year US T-Note benchmark, which hovered above 1.3% on Tuesday evening, the rise in interest rates could, at least in theory, have influenced market prices, since the rise in yields means an increase in the opportunity cost of precious metals.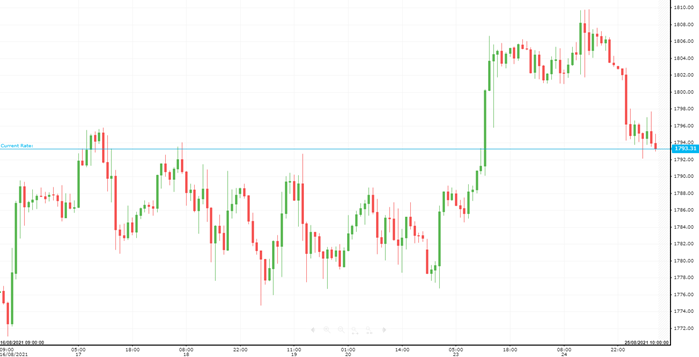 WTI oil
Oil prices continued to rise for the second day in a row and in the October future WTI crude oil in the October future rose by 8.8% compared to the closing price on Friday by the end of the day. Price action flattened out in the later hours and moved slightly down around the time the American Petroleum Institute (API) weekly statistical bulletin was published. The decrease in crude oil stocks by 1.6 million barrels compared to the previous week was rather small compared to the set expectations, while the stocks of gasoline and distillates each decreased by less than a million barrels.
A recently reported fire on a Mexican oil rig not only caused casualties, but also affected the country's production by 421,000 barrels a day, according to a Reuters report.
On Wednesday, the Energy Information Administration (EIA) released its weekly oil, gasoline and distillate inventory data.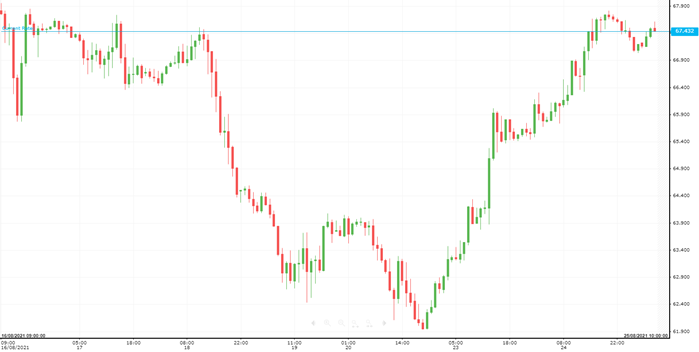 US technology 100
The US Tech 100 Index was able to continue its upward trend, again reaching a new all-time high on Tuesday and moving moderately upwards on the futures markets on Wednesday morning. Other indices such as the US 500 and US 30 were also initially higher, but were unable to sustain these price gains at the end of the day.
Some of the best performing stocks in the NASDAQ Composite Index on Tuesday were Chinese names like Pinduoduo (+ 22.35%), JD.COM (+ 14.59%) and Baidu (8.62%). Pinduoduo was able to post a quarterly profit for the first time and coupled his future success with his increased investments in the agricultural sector and would use profits until further notice until the commitment of CNY 10 billion is fulfilled.
On Wednesday, earnings can be expected from companies like Salesforce, Autodesk, Splunk, and Snowflake. Peloton, Dell and XPeng will publish their results on Thursday.