Bitcoin [BTC], the world's largest cryptocurrency, struggled to find support at $27,000. Time and time again, the asset was observed falling below this level, causing chaos in the market. At press time, the king coin was trading for $26,408.53, up a whopping 0.71%.
The significant decline in bitcoin price can be attributed to a number of factors including macroeconomic influences that had a significant impact on BTC. One such factor is the ongoing concerns about the debt ceiling in the United States, which has had a negative impact on the cryptocurrency's price. Several have pointed to the possibility that BTC could drop even further if the debt ceiling crisis continues.
Additionally, bitcoin miners were observed selling their holdings, further adding to the downward pressure on the BTC price. The combination of these factors has contributed to Bitcoin's recent decline in value.
Crypto analyst Ali took to Twitter to inform the community that Bitcoin miners' reserves were "depleted." He also revealed that the miners sold a whopping 1,000 BTC worth about $27 million. This increased selling happened in just the last 24 hours.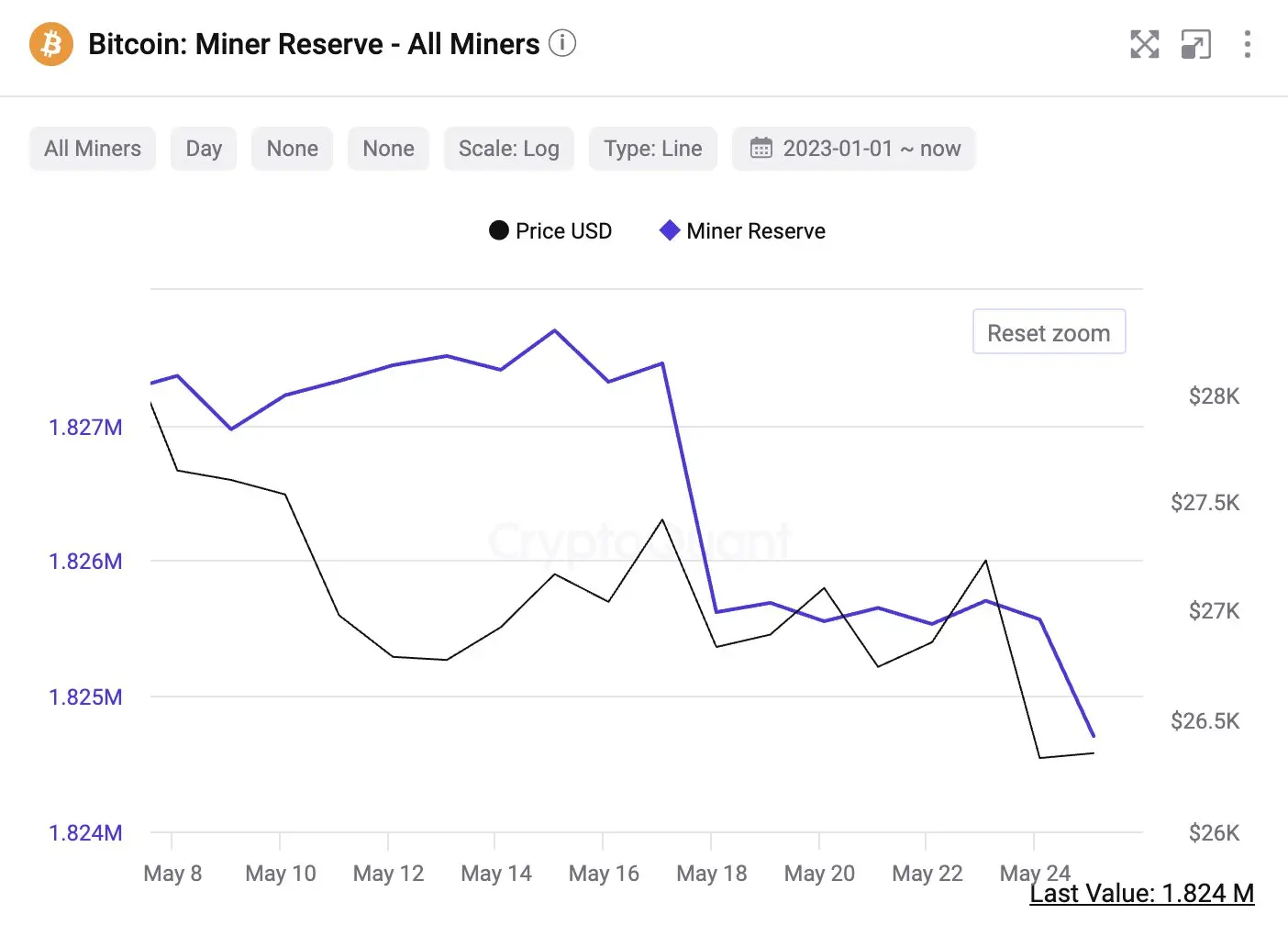 source
It is widely believed that significant sell-offs by bitcoin miners can have a negative impact on the market. Such sell-offs can put downward pressure on Bitcoin's price and contribute to its decline.
Are Investors Buying the Bitcoin Drop?
As the US economy collapses and de-dollarization takes center stage, several have stressed the importance of buying BTC. With bitcoin now trading at discounted prices, this is seen as an ideal time to pocket the king coin.
However, the market does not entirely agree with this trend. According to Santiment, the "buy the dip" idea has taken a back seat.
🫢 We see the general paradox that traders are buying short-term, small #crypto price drops, but are afraid to buy the longer-term, larger ones. Mentions of #buythedip or #boughtthedip are inactive. Historically it has been good to capitalize on this type of #FUD. https://t.co/7a2OSKDTCO pic.twitter.com/HwQznJYsYk
— Santiment (@santimentfeed) May 25, 2023
The reduced enthusiasm for "buy on the downside" could indicate cautious or uncertain sentiment in the community about Bitcoin's near-term prospects.
Learn Crypto Trading, Yield Farms, Income strategies and more at CrytoAnswers
https://nov.link/cryptoanswers