Ashley Paulson celebrates as she takes first place in the women's class of the Deseret News Marathon in Salt Lake City on Friday, July 23rd. (Laura Seitz, Deseret News)
SALT LAKE CITY – On July 23, Ashley Paulson crossed the finish line of the Deseret News Marathon as the best female finisher in a time of 2: 48.20.
As she did this, the tears that were dripping from Paulson's eyes met the sweat that had built up on the cotton t-shirt she ran in all the race – it was the shirt, she said, that kept her going held.
According to Paulson, all of this comes from a memory she has while watching her father run and cross the finish line at the 1988 Deseret News Marathon.
"My mother put all eleven of us children in the van, and I remember my father looking so miserable," she said. "I didn't know why someone would do something that caused so much pain. But that experience sparked something in me and I knew that one day I wanted to run a marathon."
Paulson didn't just run a marathon; She ran 91 of them. In fact, she recently ran at 2:40:07 a.m. in the 2020 US Marathon Olympic Trials, finishing 44th overall for women. However, she said this year's Deseret News Marathon was not even on her schedule. It was only after talking to her father a few months ago that she started thinking about taking part in the race this year.
"I was talking to my dad about the experience of seeing him run the marathon in 1988 and he said, 'You know, I still have the jersey from that race.' He told me I could have the jersey and I told him I didn't want to take it, but if he gave it to me I would win the race while wearing it. "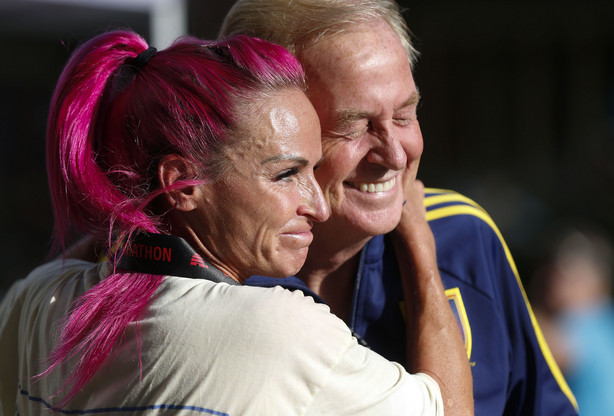 Ashley Paulson celebrates with her father Brad Jensen after finishing first in the women's standings in the Deseret News Marathon 2021 in Salt Lake City on Friday, July 23. (Photo: Laura Seitz, Deseret News)
Paulson said she always wanted to fight for victory in the Deseret News Marathon, but the timing of the race was never an issue. But things were starting to fall into place, and she was soon on the starting line adorning an oversized cotton t-shirt from 1988.
"I've raced so many races before but wearing that jersey and aiming to win for my dad was a different kind of pressure," she said. "I didn't train for it and my body wasn't prepared or rested as it should be for a race, but I kept telling myself that this race wasn't for me, it was for my father."
Although Paulson admits she wouldn't recommend 42 miles in a cotton t-shirt, it was well worth it when she crossed the finish line.
"When I crossed the border and saw my father, I just melted into his arms," ​​she said. "That was the most emotional and meaningful race I have ever driven. I will be forever grateful for the memories I made during this race."
As for the cotton shirt, Paulson says she has nothing but love for it. Still, she says she'll likely move on to more modern, moisture-wicking clothing.
Speaking of progress: Paulson will compete at the Ironman Hamburg in Germany on August 29th. To follow more on Ashley Paulson's journey, find her on Instagram @ashkickn.
About the author: Arianne Brown
Arianne Brown is the mother of nine great kids and a former college runner who connects these two worlds word for word. To read more of her articles, visit the author page of Arianne KSL.com.×
photos
More stories that might interest you