B.illie Jean King learned early on that as an outstanding athletic girl, she would not always be treated fairly. There was the elementary school teacher who tagged her for using her "superior skills" in playground games and the tennis official who dragged her away from a player photo at the age of 10 during a California tournament for wearing shorts instead of a skirt.
King continued to watch senior teenagers receive free meals in the Los Angeles Tennis Club canteen where she trained while she and her mother were forced to eat outside the food they brought from home. Later, as a player on the international stage, she saw male competitors who won up to eight times as much prize money as their female counterparts. "Even if you are not a born activist," she writes, "life can make you damn well."
King's memoirs – co-authored with sports journalist Johnette Howard and writer Maryanne Vollers – are a vivid and detailed account of her rise to athletic greatness and her struggle for equal treatment for women in a terrifyingly discriminatory sport. She reveals how she paved a path for female players in the early 1970s by leading the breakaway movement for the first female-only professional tennis tour, despite threats that they would end their careers. Many male players, including Stan Smith, condemned King's efforts; Australian player Fred Stolle told her: "Nobody wants to pay to watch birds play." But King was not deterred and persuaded eight others, including Rosemary Casals and Nancy Richey, to sign up for a token dollar bill at the Virginia Slims Circuit. They were called the "Original 9" and their line-up became the basis for the founding of the Women's Tennis Association three years later.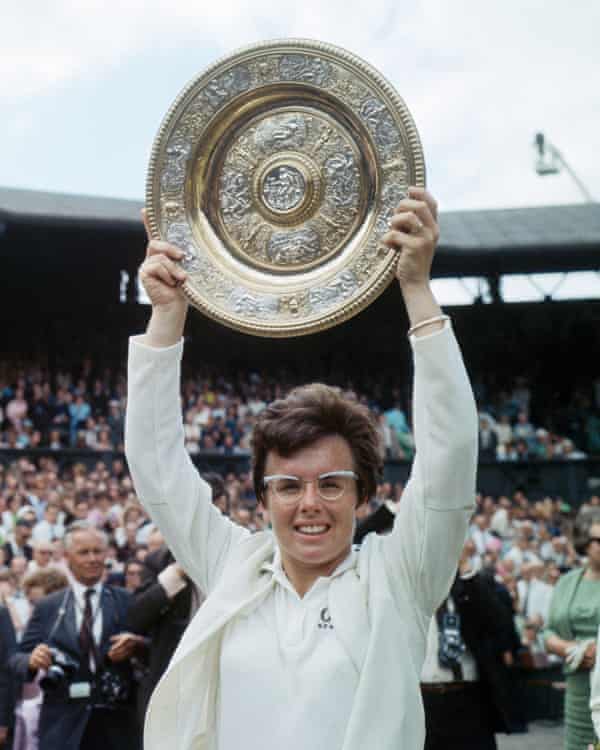 King with the Wimbledon trophy after defeating PF Jones in July 1967. Photo: Bettmann Archive
In 1971, King, who had spent much of the 1960s hand to mouth on the measly daily allowances spent at amateur tournaments, made an unprecedented $ 100,000; In 1976, Chris Evert's profits exceeded $ 1 million. Some felt that King's focus on money was vulgar, but it persisted. As Althea Gibson, the first African American tennis player to win a Grand Slam title and one of King's greatest inspirations, said, "Trophies cannot be eaten."
Elsewhere, King recalls life-changing matches with remarkable clarity, and in some cases walks us through each set. It's not as laborious as it sounds. King revels in drama and tension, in both her tennis and her storytelling; Given her status as a record-breaking athlete, her occasional failures in bombast seem forgivable. The preparation for the famous "Battle of the Sexes" match, in which she played against Bobby Riggs, and the circus that surrounded him, is terrific. Riggs, an attention-grabbing fifty-year-old and self-proclaimed "male chauvinist pig," challenged King to a price war to prove that women's tennis was inferior to men's tennis and not worth investing in. While King spent the weeks leading up to the game practicing hard and studying Riggs' game, he spent a lot mocking her in media interviews and getting advertising deals. She beat him up in straight sentences.
King's campaign went beyond tennis, of course. She marched alongside Gloria Steinem for women's liberation and went public despite heavy criticism for having had an abortion. King also had to subject her marriage to lawyer Larry King and her sexuality to intense and unfair scrutiny. For years she was silent about her relationships with women for fear of breaking her career (she is now a staunch advocate of the LGBTQ community). While All In has many athletic ups and downs, it is her reflections on that denial and secrecy that give her emotional weight.
King has lied to her family, colleagues, and the media repeatedly, even after a former friend, Marilyn Barnett, outed her in 1981 by filing a palimony lawsuit. King writes movingly about her denial of homosexuality, which she believes was a result of fear, shame, and her own internalized homophobia. "It's a legacy of so many things, including the fact that you don't know if you can trust someone with the information," she notes. "People in the closet often comfort with the idea that if the real truth is that the closet controls them, they at least control who knows the truth." She later adds, "I didn't quite get out and felt myself not comfortable in my own skin until I was 51. I wish I could have done it sooner. "
Nonetheless, the courage and perseverance it took King to face and win against a defensive, tenacious and often bigoted tennis establishment is no small feat, even if it turns out their greatest fight would be against themselves. All In describes a life that includes epic struggle after epic battle, both on and off the field. "But I survived it," she writes in the epilogue. "I am free."
All In: An Autobiography is published by Viking (£ 20). To support the Guardian and Observer, purchase a copy from guardianbookshop.com. Shipping costs may apply when ordering.