Rob Lukin may struggle to walk and talk every day, but that doesn't stop him from flying down the beach at up to 90km/h.
The man from Port Lincoln has been practicing the extreme sport of kite buggies for 12 years.
"I guess I'm chasing the adrenaline," said Mr. Lukin.
"You milk it for that extra bit."
The sport is difficult to master and requires piloting a three-wheeled kite-powered vehicle, often at high speeds.
But the 59-year-old, who is a member of Extreme Kites, a group of kite buggy enthusiasts, has plenty of patience and perseverance.
Solo world traveler
It is this tenacity and zest for life that saw him travel the world in a wheelchair for two and a half years, becoming the first in his family to graduate from university.
But it wasn't the life Mr. Lukin thought he would live.
Mr Luke comes from a fishing family in Port Lincoln and in his 20s vacationed in New Zealand heli-skiing, camping, surfing and extreme sports.
Rob Lukin says he met many friends while backpacking around the world.(delivered)
But a trip to the Murray River at the age of 24 left him fighting for his life.
He was struck with encephalitis, believed to be caused by a mosquito bite.
He was paralyzed, but after months of rehabilitation, he learned to walk and speak again.
"It damaged my entire brainstem, so all my motor stuff," he said.
"For the first year I was like, 'Why me, what happened?' But after that, I got fed up with the whole rehab and decided to get on with life."
The first thing he wanted to do was go back to full-time work.
"It took me a few years, but I managed to go to college and … I got my degree in computer science," he said.
Mr. Lukin said he worked as a software engineer for Motorola.
"I loved this job," he said.
"I wasn't bored a single day."
A whole sector went out of work, so he took the payout and set off to travel around the world for a year.
He did not return to Australia for two and a half years.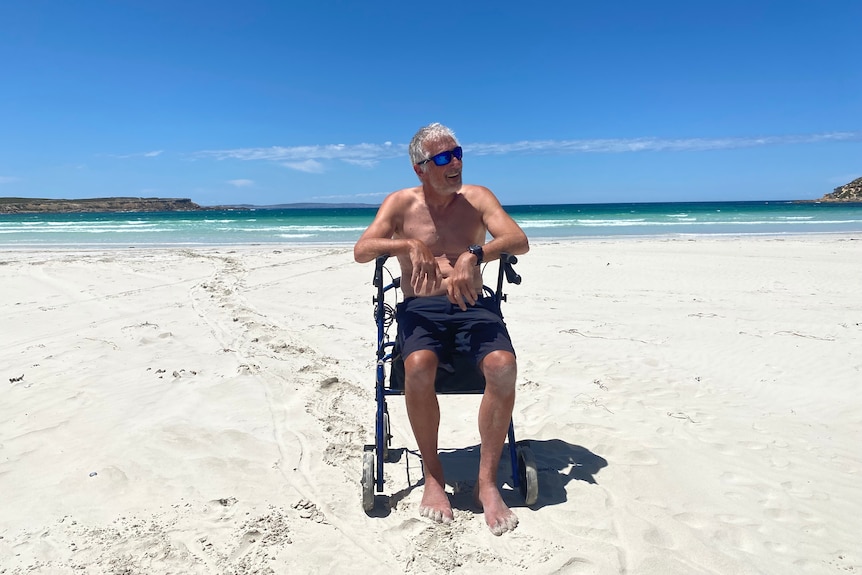 Mr. Lukin is part of Extreme Kites, a group of kite buggy enthusiasts.(ABC Eyre Peninsula: Jodie Hamilton)
Mr. Lukin stayed in backpackers and hostels, and sometimes under stairwells and on park benches.
He was traveling with a trailer attached to the back of his wheelchair until it was mugged and stolen in Spain.
"You did me a favor – I had too much stuff," said Mr. Lupin.
"My goal was to prove to myself that I could do it cheaply and just like everyone else."
Find more local news
His sister, Lisa Wiseman, said her brother has a positive attitude towards everything he tackles.
"I've never heard him sit back and say, 'Poor man, in all these years. Why did this happen to me?'" Ms. Wiseman said.
"After he got sick he played wheelchair rugby. He just didn't give up.
"He just said, 'Well, I'll find out what I can do.'
"Now he's got his kite buggy riding, which he's just brilliant at – I think he's up there with some of the best in the country and he loves it."
'Can I do that?'
Mr Lukin was drawn to the sport after first seeing it at Port Douglas in 2010.
"They had a stroller there, so I said, 'Can I do that?'" Mr Lukin said.
"And him [the pilot] said: 'Why not?'
"It was a lot of hard work and perseverance, but when I felt the power of the kite I was hooked."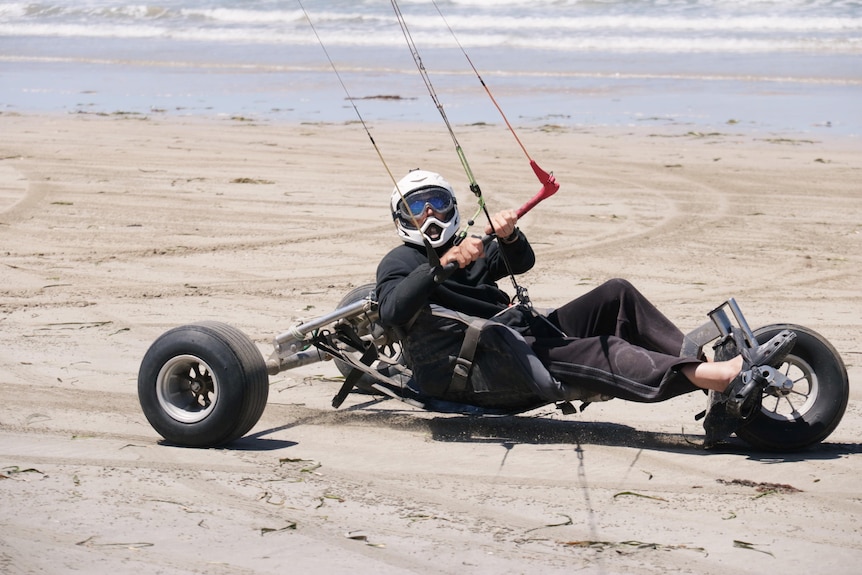 Mr. Lukin says he loves chasing the adrenaline.(ABC Eyre Peninsula: Jodie Hamilton)
90 km/h maximum speed
Now Mr. Lukin travels back and forth between Port Lincoln and Queensland chasing the right winds and smooth beaches.
He used to assemble and disassemble the buggy himself, which took about an hour.
But after injuring his shoulder, he has help setting it up so he can use his energy to make the kite fly faster.
"My personal best is 90 km/h on a beach near Wilsons Prom," he said.
"It's very windy down there."
It's not all smooth sailing, however, as Mr Lukin falls off the kite buggy a number of times – but he doesn't seem to be concerned.
"I broke my back once. I had a stress fracture in three vertebrae," he said.
His assistant, Axel Molnar, said kite buggying is an extremely difficult sport, requiring "three or four things" to be done at the same time.
"He's got the kite in the air and he's controlling that with his hands…at the same time he's running the kite parallel to the beach, and he's reading the wind in every direction it might change, and…steering the actual buggy with his feet." ' Mr Molnar said.
"He doesn't have a lot of control in his feet, so to be able to do all of that while doing this with his hands, while at the same time thinking about where it's all going – you can't even fathom how long it's taking you." would need to learn.
"He's just an incredible person."