However, Ryde Mayor Jerome Laxale said the changes, if adopted, would shift more infrastructure costs from developers to fee payers.
"Big money developers should pay for the new infrastructure, not the fee payers. It's a shift in costs from private organizations to the public, "he said. "The state government wants us to compensate for this loss by increasing the rates."
Ryde Mayor Jerome Laxale says the proposals will place a greater burden on fee payers with the new infrastructure.Recognition:Cole Bennetts
Under the proposed changes, the upfront development fee would be deferred for developments in excess of $ 10 million until projects are completed.
Waverley Mayor Paula Masselos said her council was also concerned that plans to pool developer contributions into four regional funds meant there were no guarantees that the money would go back to projects in the local areas where the taxes had been levied.
"Waverley Council could lose millions in developer grants … and that would have a serious impact on the convenience of our local government area," she said.
Sydney Mayor Clover Moore said the councils would be significantly worse off financially as a result of the proposed reforms, and the final cost would be borne by the fee payers.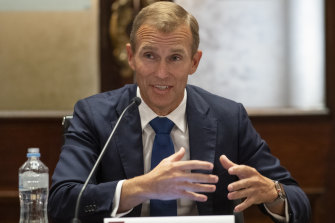 Rob Stokes, Secretary of State for Planning and Public Spaces, NSW.Recognition:Louise Kennerley
"The state government says: We'll take the developer fees, and you can fund the local infrastructure by increasing the rates," she said.
The City of Sydney estimates that if the changes are passed, it will lose $ 350 million in revenue in a decade.
The councils are also concerned that the changes give the planning minister some discretion over what the developer fees are spent on.
Loading
NSW Local Government President Linda Scott said the proposed changes could break the link between new development and the work required around it, such as parks and walkways. "These proposed laws allow almost infinite potential delays in developer contributions and deprive the public of the security of funding community projects," she said.
However, NSW's Department of Planning said a price lock would rise as the population grew, providing councils with additional revenue for providing the infrastructure.
"The councils will have more control over how they invest contributions by pooling revenues and driving funding projects," a spokesman said.
Labor local government spokesman Greg Warren said councils were deeply concerned about the government's proposal and its implications for their communities. "Growing communities need the infrastructure and anything that could hinder that process is worrying," he said.
The NSW branch of the Urban Development Institute of Australia, which represents the real estate industry, said it supports legislation to change infrastructure contributions despite some reservations about the "potential for this reform to go wrong".
The Morning Edition newsletter is our guide to the most important and interesting stories, analysis and insights of the day. Login here.