Our most-read stories this week were:
Top Reviews for the week
TALKS, EVENTS & OPPORTUNITIES
TALK ONLINE: Need help with your pivot? SAMAG is presenting a panel discussion – Digital Literacy and New Digital Possibilities – drawing together sector experts to  focus on digital wayfinding, accessibility and inclusive spaces and the possibilities for storytelling. Join Daniel Savage, April Phillips, Caddie Brain and moderator Kevin du Preez on 2 August, 6.30 pm online. To register.
PUBLIC ART: Ethiopian-born, South Sudanese, Naarm/Melbourne-based artist Atong Atem will transform Melbourne Southbank's Hanover House into vivid new artwork as part of Beulah's $2 billion-plus project STH BNK by Beulah. Two facades of the building will be animated in paint and LED neons. Outside Living (2021) draws inspiration from her archive of colonial and vintage European wallpapers. STH BNK By Beulah is set to become Australia's tallest building. The artist brief was to showcase Beulah's commitment to sustainability, wellness and technology by incorporating low-VOC and low-energy consumption materials.
TALK ONLINE: The Power Institute (Sydney University) has announced the next speakers for its 2021 Sydney Asian Art Series, convened by Olivier Krischer on the theme of Art and Environment. Sugata Ray, Associate Professor of South and Southeast Asian art in the Departments of History of Art and South & Southeast Asian Studies at the University of California, Berkeley, will deliver the keynote, With the "Gobble" of a Turkey: Visualizing Human-Animal Relations in the Indian Ocean, Thursday, 16 September 2021 10:00am-11:15pm (AEST). Ray asks: Might a renewed attention to human-animal relations alter art history's speciesist bias? And what might such an art history look like? It is an online event.
And, on Monday, 25 October 2021 5:00-6:15pm (AEST), artist, writer and curator, and is Associate Professor at the National Kaohsiung Normal University in Taiwan, Wu Mali will deliver the keynote Mending the Broken Land with Water via zoom. She will share her learning from co-curating the 11th Taipei Biennial, which was titled "Post-Nature: Museum as an Eco-System", among other projects. To register.
MASTERCLASS SERIES: Powerhouse Museum is partnering with local ceramic studios to develop a masterclass program in conjunction with its soon to open Clay Dynasty exhibition. The series starts in October and continues through February, with Stephen Bird leading a two-day raku firing class at National Art School, Prue Venables demonstrating how to create functional forms through wheel throwing and altering at Claypool, and Hermannsburg Potters to deliver a workshop exploring underglazes on terracotta at Kil.n.it studio. Paid; to learn more.
TALK: Clay Dynasty Symposium will be presented 18 September at Powerhouse Museum, Ultimo, in partnership with the ceramic industry, to discuss Australian studio ceramics from the 1960s to now. The symposium will including speakers: curator and writer Grace Cochrane AM, Head of Ceramics at the National Art School Lynda Draper; artists Stephen Bird, Kirsten Coelho, Geoff Crispin, Paul Davis, Penny Evans, Vipoo Srivilasa, Ramesh Mario Nithiyendran and Gerry Wedd. To book tickets.
FESTIVAL UPDATES
Cancellations: There have been a lot of cancellations this week, in another bout of belly punches. BIGSOUND captured the sentiment of many: 'We think it's unfair to expect people to come and artists to showcase when there is still uncertainty about who else will be able to be here – and whether they'll be able to cross the border again to get back home.' Among the festivals that have announced postponements and cancellations are:
QLD: Brisbane music festival, BIGSOUND 2021 has cancelled its 7-9 September events, rescheduling all events to September 2022. A full refund for all delegate pass holders and artist applications will be issued in the coming weeks.
NSW: Byron Writers Festival 2021was scheduled to run from 6-8 August, but this week it joined the list of cancellations due to the large number of writers residing within lockdown zones. Refunds will be automatically processed within 14-days.
QLD: The Australian Festival of Chamber Music (AFCM) has cancelled its 30th anniversary edition which was scheduled to commence this Friday (23 July) in Townsville.
NSW: Sydney's Winter Jazz Fest has also had to postpone its current programming. All July events have been cancelled with schedules still in place for August at the time of writing. 
SA: The escalated restrictions mean that the inaugural Illuminate Adelaide has been paused from Monday (19 July) until 27 July inclusive, with future programs subject to SA Health directives. Illuminate Adelaide was scheduled to run until 1 August.
Save the date
VIC: Spring1883 Art Fair is remaining optimistic, with tickets released for its seventh edition to take place at The Hotel Windsor, Melbourne from 4–7 August, 2021.
Programme announcements
VIC: Tickets released this week for the Melbourne International Film Festival (MIFF), which returns with a hybrid digital and in-cinema program from 5 – 22 August. Catch over 62 films streaming online to a national audience. Explore a selection of the most eagerly awaited world-premiere films, international award winners and special events in their 69th Festival, including standout titles from the Berlin, Venice and Sundance film festivals.
QLD: Cairns indigenous Art Fair (CIAF) is back for its 12th iteration, and this year is shaping up with a sparkling new hub, film festival after dark, music in the park (21 August), Comedy up late, fashion, along with host exhibitions that spotlight Queensland's distinct and diverse Aboriginal Torres Strait Islander arts and culture. The CIAF Symposium will be presented 18 August, CIAF Opening Night 19 August and CIAF SACRED Art Fair and Art Market from  Friday 20 to Sunday 22 August. While it will be an in person event, it will also deliver a digital stream, given the success last year with live streamed performances, presentations, webinars and workshops accessed by more than 2.5 million devices in 85 countries. Check out this year's program.
QLD:  Brisbane Festival has announced its program, which stretches over 23 days this September, including the premiere of 18 new works,  130 productions – 18 of which are First Nations-led – and present events in a staggering 222 locations across the city. Amongst the many highlights includes the Australian premiere of Circa's luminous Silver City; First Nations Fashion – Walking in Two Worlds curated by Grace Lillian Lee; the blockbuster world premiere of Tim McGarry's page-to-stage adaptation of Boy Swallows Universe by Trent Dalton; and a party-packed South Bank Piazza program that includes headliners Kate Miller-Heidke, Hugh Sheridan, David Campbell, The Little Red Company, Briefs Factory International and more! Flag it for the diary and start planning.
SOH Digital Stage, Dear Australia. Photo Prudence Upton.
NSW:  Sydney Opera House announced the line-up for Antidote 2021 – its annual festival of ideas, action and change – which will be livestreamed from the Opera House stages on Sunday 5 September. Also announced today, for the first time, the Opera House/Antidote will partner with Western Sydney-based literary movement Sweatshop on an emerging writers mentorship for First Nations and culturally and linguistically diverse writers.
Punters will hear from the likes of New Yorker staff writer and Pulitzer Prize-winning author Elizabeth Kolbert, Korean American poet, essayist and Pulitzer prize finalist, Cathy Park Hong, writer, TV presenter and author, Afua Hirsch, Cobble Cobble woman and Pro Vice Chancellor Indigenous and law professor at UNSW, among others. It will be presented Online – presented on Stream, the Opera House's online streaming platform. To view the full line up. Tickets now on sale. All sessions will be Auslan interpreted or live captioned.
TAS: Beaker Street Festival will return with a program of talks, activities, exhibitions, live music and Tasmanian food and drink as Tasmania Museum and Gallery (TMAG) becomes the Festival Hub from Friday 6 until Sunday 8 August. The Festival is also going state-wide this year with events and activities around Tasmania from 8-14 August. Tickets are on sale now via the Beaker Street website, where you can also check out the full program.
AROUND THE GALLERIES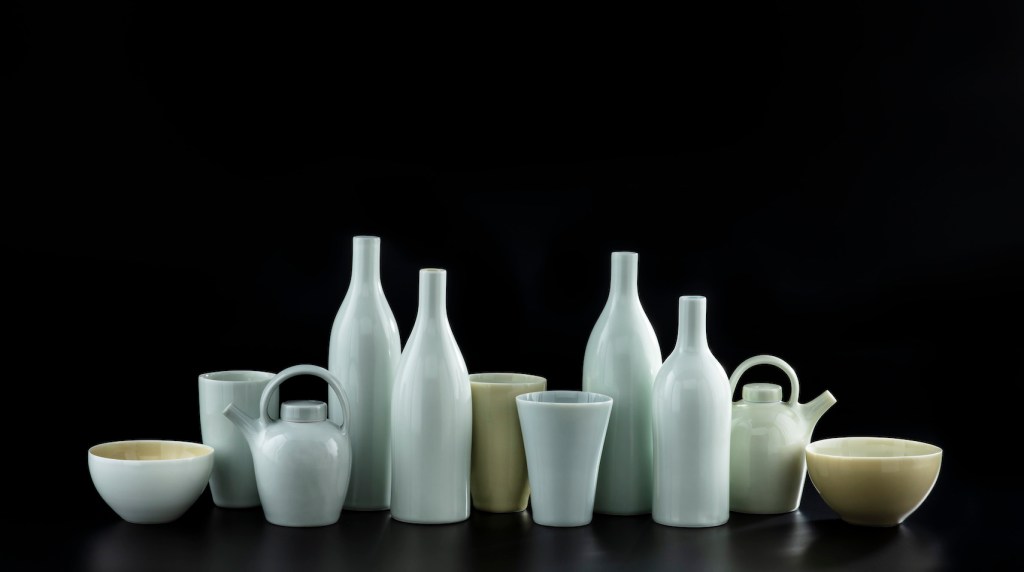 Gwyn Hanssen Pigott, 'Still Life with Yellow Bowls', Limoges porcelain, 'Southern Ice' porcelain, Ipswitch, Queensland, 2002. Included in new Clay Dynasty survey at Powerhouse Museum.
NSW: A major exhibition charting studio ceramic practice in Australia over the last 50 years will open at the Powerhouse Museum on 20 August 2021. Bringing together works from 168 Australian artists, Clay Dynasty will celebrate Australian studio ceramics, as shaped by three generations of makers. The exhibition will present more than 450 works from the Powerhouse collection and will feature 70 new commissions and acquisitions from Australian artists.  The exhibition has been curated by Eva Czernis-Ryl, and designed in collaboration with Aileen Sage Architects and AX Interactive. Catch it 20 August 2021 − 17 July 2022.
WA: Sculpture at Bathers is a distinctively Western Australian exhibition supporting contemporary sculptural practice. Presenting its 5th edition in 2022, it has shown the work of over 150 Western Australian artists and grown from an audience of 20,000 in 2013 to 60,000 in 2020. More than 120 entries from Western Australian sculptors were received for the 2022 exhibition, with 67 selected for [email protected], which will be held 19 February-7 March 2022. In 2021 Sculpture at Bathers secured funding from the Federal Government through RISE, which has allowed for the payment of artist fees to successful artists for the first time.
TAS: A new space – SOCIAL – has opened at Salamanca Place, Hobart this past weekend.  This newly furbished, ground floor space is wheelchair accessible, and the first exhibition Shape & Colour is a group show, until 15 August. SOCIAL is proudly presented by Salamanca Arts Centre. SOCIAL is a space dedicated to experimentation, play and discovery for artists and audiences alike. SAC Board member Neil Haddon said:  We are delighted that our newest high profile space, positioned at the heart of these debates, will create even more opportunities for artists to share their work, reach out to new audiences, and engage them in the conversation.'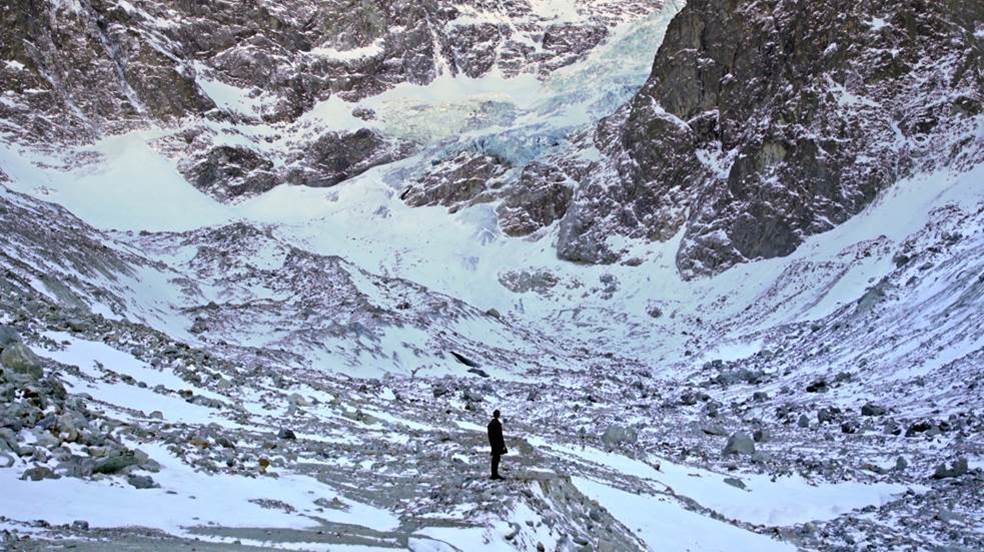 Jacobus Capone, Echo & Abyss – Chapter 6, Scene 9 (video still), 2018, synchronised 10-channel HD video. Showing at Fremantle Arts Centre. Image courtesy the artist and Moore Contemporary.
WA: Two new exhibitions have opened at Fremantle Arts Centre (FAC), an ambitious solo exhibition by Perth artist Jacobus Capone – the largest exhibition of his works to date – and a new exhibition by Ukrainian-Australian artist Stanislava Pinchuk, The Archaeology of Loss, is first Western Australian exhibition of her conceptual poetics and engagement with sites of global conflict and catastrophe. Both are on show 24 July – 7 September.
At the centre Capone's exhibition is his epic 10-channel video installation Echo & Abyss (2018) shown in its entirety for the first time. Experienced from within a vast circle of screens, the work draws viewers into sublime, frozen landscapes, which were filmed in locations from Sierre in Switzerland to Greenland's ice sheet.
WA: PICA open two new exhibitions this week: Love in Bright Landscapes curated by Annika Kristensen which explores connections between the West Coast cities of Perth and L.A. through the work of 10 artists; and I don't see colour, a major solo exhibition by Fijian Australian artist Salote Tawale including new painting, installation and video. Showing 30 July until 10 October.
VIC: Heide Museum of Modern Art presents the first dedicated retrospective of pioneering modernist sculptor Margel Hinder after its successful season at the AGNSW. The exhibition was a collaborative project. The exhibition spans Hinder's five-decade career and showcases approximately 70 sculptures and archival material. 24 July – 17 October 2021
ON STAGE
VIC: Commemorating the 20th anniversary of the 9/11 Trade Center attacks, the Melbourne premiere of Anne Nelson's acclaimed play The Guys (written immediately after the attacks), features Atlantic Theater Co alum Adam T Perkins and Roz Hammond. This is a deeply personal project for Perkins, who was a volunteer first responder to the 9/11 attacks as a Search and Rescue 'Tunnel Rat' or 'Mole', crawling beneath the wreckage of Ground Zero. First premiered in 2013 in Perth, The Guys will run from 1-19 September at fortyfivedownstairs.
VIC: The Australian National Academy of Music (ANAM) and SPEAK Percussion present MARCH STATIC – a site-specific concert featuring news works by Liza Lim, Thomas Meadowcroft, Cathy Milliken and Damien Ricketson at Abbotsford Convent, 13-14 August. Audiences will be taken on a literal musical trip through the Abbotsford Convent's century old, resonant spaces when six works including four world premieres and one Australian premiere, from four of Australia's finest composers Liza Lim, Thomas Meadowcroft, Cathy Milliken and Damien Ricketson are performed by SPEAK Percussion and the Australian National Academy of Music (ANAM).
NSW: Sydney Theatre Company Artistic Director Kip Williams has announced that Triple X – the semi-autobiographical trans love story by two-time Griffin Award-winning playwright and trans performer Glace Chase – will be rescheduled in the 2022 season and all remaining performances of the 2021 season will be cancelled. The production had been due to begin performances on 1 July and the first four weeks of the season were already cancelled due to the current lockdown. Triple X is a co-production between STC and Queensland Theatre Company.
SA: Black Box Live are excited to announce performances in August at the Bakehouse Theatre in Adelaide.  Performances will be live-streamed to Edinburgh Fringe and Hollywood Fringe where UK audiences can view online and US audiences can attend cinema screenings in addition to online viewing. Through use of cutting-edge film and broadcast technology Black Box Live have been able to provide a safe and accessible way for people to consume art and live performance in a virtual setting.
Black Box Live Artistic Director Joanne Hartstone said 'the pandemic presented us with a challenge earlier this year, one that required creative thinking and problem solving. The result was a portable model for performance where we are able present shows partly or exclusively online dependant on health regulations. Program includes:
The Girl Who Jumped Off The Hollywood Sign by Hartstone-Kitney Productions
The Breast Is Yet To Come by Amelia Ryan
The Reichstag Is Burning by Hartstone-Kitney Productions
EGG by Erin Fowler Movement
Spaces Between Us + Satori by Lewis Major
Still Alive (and Kicking) by Gill Hicks
Check out ticketing for Blackbox, Hollywood Fringe and Edingburgh.
SA: State Opera South Australia has announced that The Turn of Screw, The Barber of Seville and Teddy Tahu Rhodes in Concert will join Voss to complete their 2021 season.
ON THE PAGE
NEW QUARTERLY: Created by and for Women and Gender Diverse People of Colour, kindling & sage, is a new quarterly publication that includes interviews, opinion pieces, short stories, and poetry, elevates marginalised Australian creators, writers and entrepreneurs. Over 60 individuals have contributed to the first and second issues, available in both print and digital editions.
It has long been reported that Australian mainstream media lacks diversity in gender, ethnicity, age, ability and body shapes. Natalia Garcia, editor and founder, said the publication would offer a new channel for creators who went unrecognised in many channels. 'The magazine grew from our frustration at the lack of representation People of Colour have in mainstream media. We wanted to hear from people that look like us, that share our experiences, that draw on our knowledge.'
Built upon a proud 20-year heritage, ArtsHub is Australia's leading independent online resource dedicated to the world of the arts.
Our passionate team actively pursues a vision of being a world-class arts and culture publishing, media and marketplace business that significantly contributes to developing a dynamic, diverse and prosperous arts industry.