The demand for gold is weakening. In fact, by September 2021, it had shrunk to just under 3,000 tons and was at least a 20-year low.
Central banks (mostly autocratically governed nations) started buying gold after the GFC and have since acquired an average of 43 tons per month, or about 15%, to support trade and investment demand. That seems to be easing, however, as buying dropped to around half that level in the final quarter.
And it happens when the demand for business and investment falls and supply increases. In fact, last year supply has exceeded demand by a massive 1,275 tons – or a massive 42% of non-central bank demand.
All data refer to the database of the World Gold Council.
But the World Gold Council remains optimistic.
The following content is based from the World Gold Council.
Summary:
A bright start, flat middle, and weak end sum up a lackluster quarter for the gold price in the third quarter
The price of gold in US dollars closed the quarter 1% lower than at the beginning, which apparently shook off the anemic sentiment among gold ETF and futures investors
Healthy consumer and central bank demand growth was supported by robust over-the-counter (OTC) demand
We maintain our outlook for a solid rebound in jewelry demand and growth in annual cash and coin investments to stem ETF outflows.
Q3 review
Q3 started well for gold, boosted by the cautious rhetoric of the US Federal Reserve and sharply lower nominal and real yields on 10-year government bonds. The latter fell to an all-time low of -1.2% by early August. However, the positive momentum was short-lived and gold failed to capitalize and lost 0.6% during a turbulent but ultimately flat August.
Up until September, "gold positive" news led to brief gains, but it failed to contain a 4% decline from the previous month. A sustained rise in the US dollar also took its toll. But despite net outflows from gold ETFs and falling net long positions on the futures markets, gold ended the quarter with a loss of only 1.2%.
This resilience of gold despite visible investment weakness reflects not only the strength of consumer and central bank demand, but also what is less obvious on the surface:
Demand for European and Asian ETFs has been strong for Ytd: overall weakness comes mainly from the US
In both Germany and the US, record demand for bars and coins was the year before and other sources of physical demand were strong.
Over-the-counter (OTC) demand was resilient in 2021, bucking the trend of loosely tracking the positioning of the COMEX futures market, which has been steadily declining since early 2020
The gold price fell only slightly in the third quarter despite visible investment weakness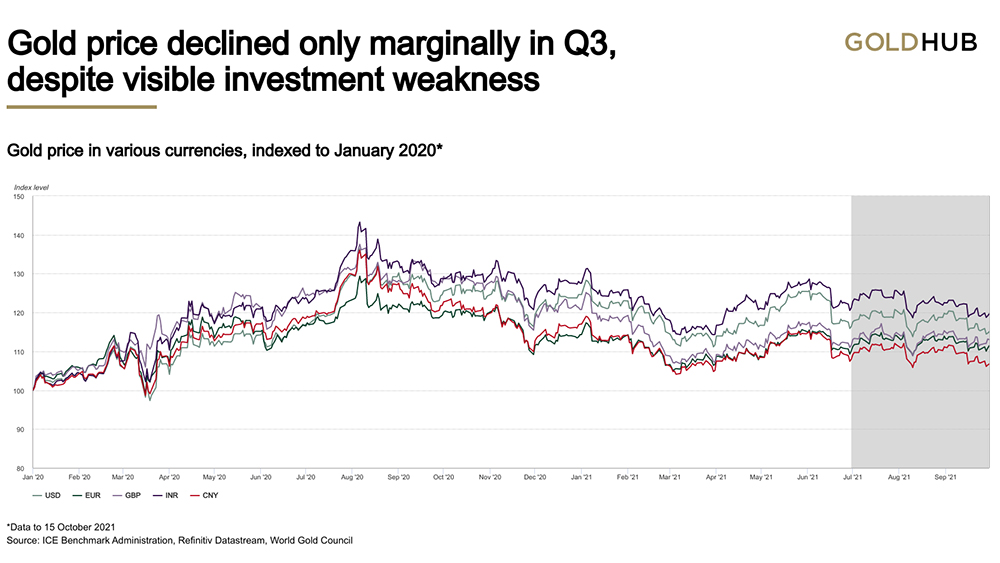 Gold held up well despite the "apparent" underlying investor depression, which was a silver lining. Another reason was the lackluster performance of stocks and bonds. General unrest appeared to have spread on the financial markets in the third quarter, especially in September. The collapse of bonds and stocks (-4.7% and -0.9%, respectively) 1 contradicts the experience to which investors have become accustomed for over two decades. Should this continue so that gold gains momentum, this could increase the attractiveness of gold as a risk hedge in the future.
outlook
Strong demand from consumers, central banks and OTC is offset by weakness in ETFs and solid growth in mine production
We assume that the demand for jewelry will exceed the level of 2020 and have raised our expectations slightly in view of the current weak price development. Jewelry should continue to benefit from the economic recovery. From our point of view, a risk for the full year (FY) 2021 comes from China, where the consequences of the problems in the real estate sector and Power outages can have a negative impact on demand in the 4th quarter. Still, we believe that stronger than expected demand in India can offset potential weakness in China. Overall, we are increasing our estimate of the demand for jewelry for the 2021 financial year to 1,700–1,800 t.
Given the annual performance, it is not surprising that we expect overall investment demand to be weaker in 2021 compared to an outstanding 2020. Demand for bars and coins has impressed but has been offset by much weaker than expected net gold ETF demand. The demand for bars and coins should continue to be supported by the macroeconomic environment of high inflationary pressures and economic concerns. A surprising area of ​​strength is the United States, where the year-to-date total is the highest in our dataset. This was all the more notable given the weakness in both gold ETFs and COMEX futures.
ETF demand is expected to be weaker than last year, but the extent of the weakness has so far been greatly underestimated given a generally supportive macroeconomic picture. All in all, the prospect of a higher interest rate environment appears more worrying than "transitory" inflation.
A similar pattern has emerged in the futures markets. A sustained decline in COMEX net positioning to a six-month low suggested that OTC demand may have gone the way of ETFs given their links. But our OTC estimate, which is part of the balance of demand and supply, not only remains positive in 2021, it is sizeable.
We believe that the following factors play a role here:
The problems facing the COMEX in 2020 will still reverberate in 2021. Coupled with a steeper contango in 2020, it's not surprising that some streams may have escaped futures and made their way into other forms of gold
There is anecdotal evidence of inventory rebuilding in 2021 after a year of depletion in 2020 in some major hypermarkets. This non-investment demand would add to our larger OTC estimate
ETFs have seen outflows this year, but the vast majority of them are from the US. A regional breakdown shows that both European and Asian ETF demand was healthy. This dichotomy is supported by the strength of US bars and coins and, anecdotally, by other sources of retail demand.
The demand from central banks in 2021 has so far been a positive surprise. Ytd purchases in the third quarter are at 393 tons and based on historical performance and what we learned from our survey, we wouldn't be surprised to see a figure above 450 by the end of the year.
With COVID-19 disruptions easing and a supportive economic environment, mine supplies should have fewer barriers to healthy growth in 2021. However, manufacturer margins have continued their downward trend in the third quarter since their high in late 2020. A prolonged continuation of this trend could hamper sustained production growth at this level.
Recycling is expected to be marginally less this year, offsetting the growth in mine production. Recycling is expected to decrease slightly in 2021 (by 50–150 t). Since the near-market supplies seem to have been used up in 2021 after two years of relatively high activity, the previous healthy economic growth and a subdued gold price, there were hardly any incentives or capacities to recycle at the level of recent years. However, we remain exposed to the risk that economic stress sells may still occur in Asian markets in the fourth quarter as the impact of China's housing market difficulties and energy shortages persist.

Our free weekly precious metals email offers you weekly interesting news for precious metals investors as well as a comprehensive list of gold and silver buy and sell prices.
To subscribe log in or to register, and sign in to your account page. It's free.
Comparison prices
Here you can find our independent comparison prices for gold bar, Coins, and used 'scrap metal" in both US dollars and New Zealand dollars, which are updated daily Here "
Select diagram tabs
Gold – NZ $ & US $ per ounceSilver – NZ $ & US $ per ouncePlatinum – US $ per ouncePlatinum – NZ $ per ounce