Join our Telegram channel to keep up to date with breaking news coverage
From BinaryX posting a marginal 8% surge to XRP's surge of just 3%, the top crypto gainers have stalled over the past 24 hours. The market is in turmoil and as more information emerges about the FTX issue, we will see several major cryptocurrencies trending in negative territory. Is FTX the sole reason behind the lukewarm price action of these top gainers?
The real reason for the lukewarm performance of the top crypto winners
The fall of FTX has put the entire cryptocurrency ecosystem under regulatory scrutiny. Add to that the revelations that prove Sam Bankman-Fried wasn't the "most selfless billionaire" many thought he was. From the balance sheet leaks to the sex tape disclosure to the recent report showing SBF's $300 million purchase of real estate in the Bahamas, many have turned beliefs about crypto on its head.
And it didn't help that Binance exited the FTX bailout due to the initial leak that pushed FTT's price down to just over a dollar.
Note: Recent price charts show an almost 12% increase in FTT value. Decrypt reports that Binance plans to raise $1 billion a crypto "recovery fund" to "maybe" buy FTX systems.
The outcome of such revelations has spread across the crypto market. At the time of writing, the crypto market cap is down another 1% as Bitcoin and Ethereum prices are down almost 1%.
The top three gainers of the last 24 hours, BinaryX, XRP and GMX are not doing well and their price action looks dubious to the crypto community.
Binance X up 8%
The top crypto winner of the day is Binary X, the native crypto of the Binary X gaming system. It started as a derivatives trading system but switched to GameFi shortly after realizing its potential in the crypto gaming space.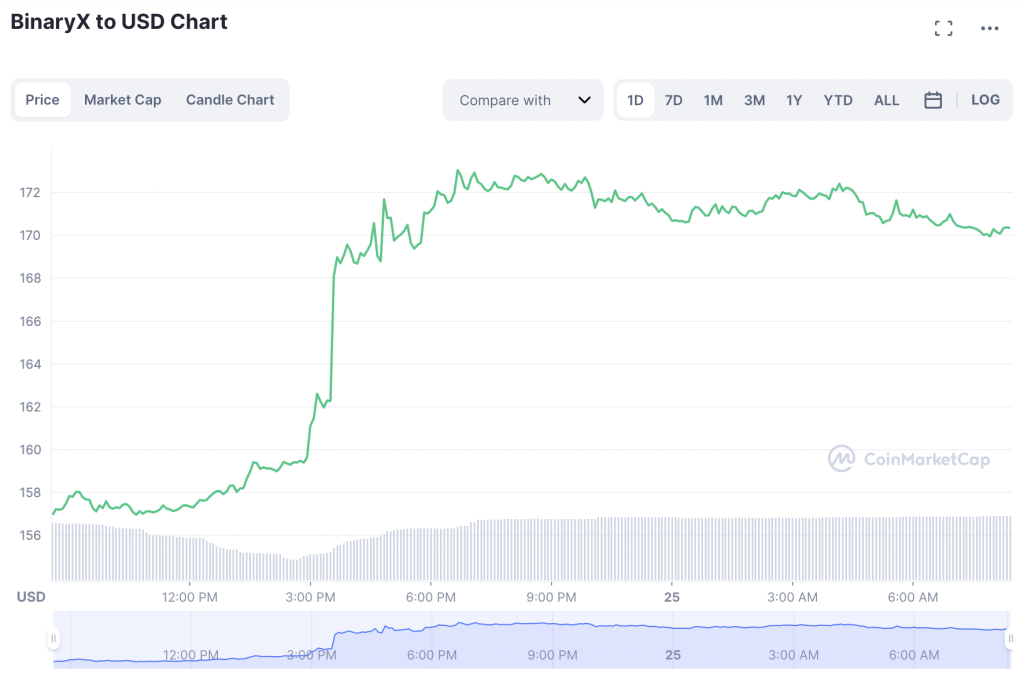 This project has come under scrutiny for its centralized tokenomics, with commenters on CoinMarketcap stating that a small number of people own 99% of the wealth. This disproportionate distribution of BNX tokens leads many to believe that the developers are manipulating the price on the back end as most P2E cryptos including Decentraland and Sandbox are trading in the red.
XRP is up 3.5%
On the bright side, XRP is on the rise for all the right reasons. The token is up 3.5% as the Ripple vs SEC case acts as a catalyst and moves the XRP price higher. and today Some lawyers reportedly believe both parties could come to an agreement soon.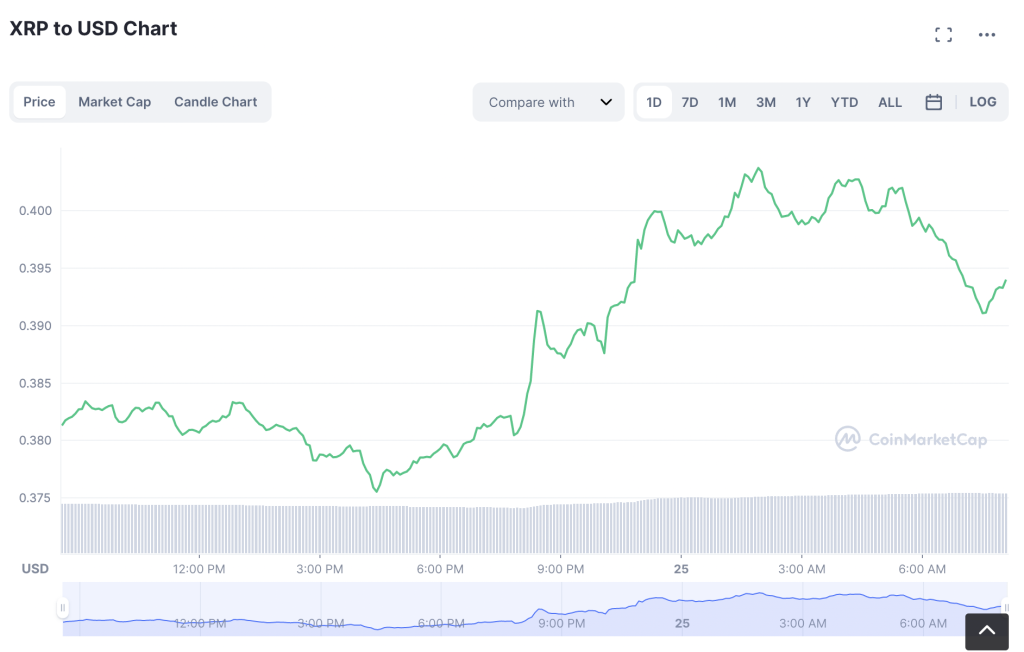 While the price action may seem insignificant now, there is a chance that a large green candle may appear on the chart soon as more positive rumors of the fall emerge.
GMX is up 0.6%
GMX is a DEX supporting low-cap crypto assets. Trading on the platform is supported by a unique multi-asset pool that replenishes liquidity through swap fees, market making, leverage trading and asset rebalancing. GMX price rise is insignificant as it has been trading in volatile zones for the past 7 days, fluctuating between $37 and $47.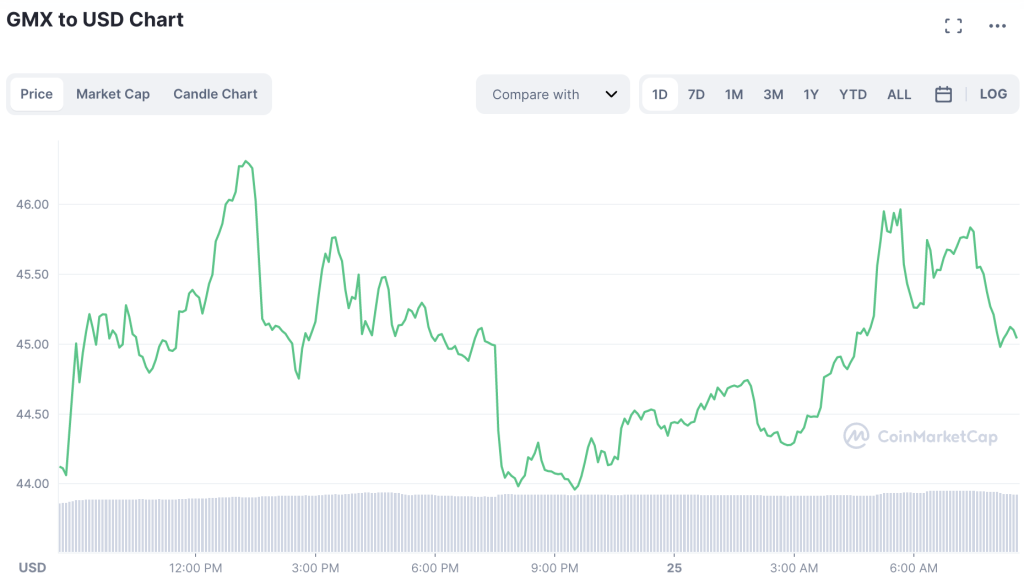 Another factor to note about this coin is that most investors are bearish on CoinMarketCap. "There are better investments out there," said one comment, while another was much less lenient, saying that "GMX is like MC DEX, a dead-on-arrival coin."
Better Crypto Investing in Current Market Scenarios
From XRP's trust in the court hearings to the community's claims that BinaryX is price rigging, the current cryptocurrency market moves based on rumors and the emotional response of the community. Therefore, a better crypto investment option is to invest in assets that are currently on pre-sale and carry tangible utilities with long-term benefits. A key reason to invest in such assets is to take advantage of the pre-sale phase to earn profits before they become tradable on cryptocurrency exchanges.
Dash 2 trading
Dash 2 Trade is a crypto information and analysis platform that is exactly what the 2022 bear market needs to handle FTX-like situations and generate huge returns.
Dubbed the "Bloomberg Terminal of Crypto" by many publications, Dash 2 Trade offers sports tools specifically designed to help novice and experienced investors navigate the volatile cryptocurrency market. This includes social analytics, on-chain analytics, strategy development, backtesting, listing alerts, and trading competitions to name a few.
However, the biggest USP of the platform is the customized presale assessment tool. It is a facility that involves Dash 2 Trade experts who manually evaluate pre-sale cryptos to find excellent early move opportunities for regular traders.
Powering Dash 2 Trade is the D2T token, an ERC-20 cryptocurrency that promises to remain tax-free forever. The D2T token is to be used as a subscription fee to access the facilities provided by Dash 2 Trade.
Because of its usefulness, Dash 2 Trade has become one of the biggest presale hits of 2022. In less than two months since its launch, Dash 2 Trade has raised over $6.9 million. Try it now to grab it at a special price of $0.0513.
IMPT
Another presale crypto investment to watch out for this year is IMPT, a green cryptocurrency that aims to transform the carbon trading economy. The project aims to create a shopping platform that brings together the best-known ESG brands and offers customers access to environmentally conscious products. Purchasing products through the platform allows users to earn IMPT, which they can then exchange for tokenized carbon credits. At the same time, part of the sales proceeds go towards promoting good ESG practices.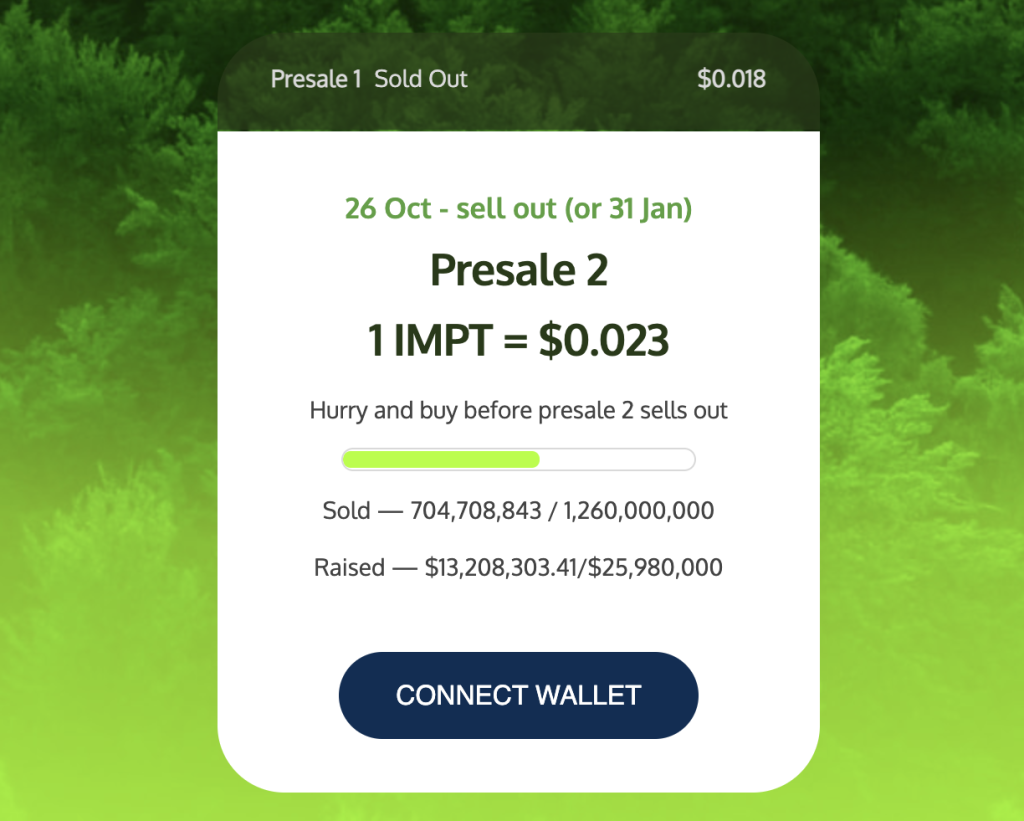 Carbon credits can either be decommissioned by the buyers or listed for purchase on the IMPT marketplace for the ESG brands. Retiring the carbon credits rewards buyers with NFT artworks, while selling the carbon credits rewards them with more IMPT.
IMPT aims to make green choices a part of everyday life for users, a move that has enabled it to onboard more than 25,000 brands including Microsoft, Amazon, Booking.com and Samsung, to name but a few to call.
The token has raised more than $13.2 million and is a good investment for green crypto traders.
skull
"P2E games need to be more inclusive to increase adoption"; this is the core idea behind the conception of Calvaria. In hindsight, it's a game similar to Hearthstone and Gods Unchained, but a look at the official whitepaper and tokenomics reveals an ambitious vision that will likely make crypto games more appealing to traditional players.
Calvaria is a card battle game with cards of different powers. Players build a deck from these cards and use them to battle in a PVE and PVP ecosystem to earn rewards. These rewards come in the form of sellable in-game NFTs and eRIA Tokens.
However, the greatest charm of this project is the F2P mode. It allows non-crypto players to play this game for free, with access to the same assets and game mechanics as Calvaria's P2E counterpart.
In addition to gameplay, Calvaria features gamified liquidity pools that allow users to wager their eRIA tokens to earn RIA tokens.
RIA is the native crypto of the Calvaria ecosystem, allowing players to purchase in-game items from the in-game marketplace, participate in DAO, or sell on cryptocurrency exchanges. This multifaceted use case, combined with the game's desire to convert non-crypto players, has allowed Calvaria to earn nearly $2 million in the pre-sale round. Check it out if you want to get early into this P2E project.
Conclusion
The collapse of FTX has resulted in an economic downturn for the entire crypto market. Traditional crypto assets are as volatile as ever, and the performance of the top crypto gainers is a testament to that. With this in mind, assets like Dash 2 Trade offer better investment opportunities.
Dash 2 Trade allows traders to navigate the treacherous waters of the crypto markets and avoid having their bottom line compromised by bypassing FTX-like issues.
Other pre-sale assets such as IMPT and Calvaria also represent a shift in the crypto market in a value-oriented direction.
Keep up to date with Insidebitcoins for the latest on what's happening in the crypto space.
Related Articles
Dash 2 Trade – Presale with high potential
Active presale live now – dash2trade.com
Cryptosignal ecosystem native token
KYC verified and audited
Join our Telegram channel to keep up to date with breaking news coverage
Learn Crypto Trading, Yield Farms, Income strategies and more at CrytoAnswers
https://nov.link/cryptoanswers