Bitcoin Dominance (BTCD) bounced off a long-term support area in September. Since then, it has been rising steadily and is about to break another resistance level. Will Bitcoin dominate altcoins in the coming weeks?
Many analysts were anticipating a major altcoin season in anticipation of the Ethereum (ETH) merge update. In fact, Bitcoin's dominance then fell into an area of ​​support, and ETH is up 74% against BTC since the summer lows.
However, BTCD held support, rallied and continues to rise today, weakening altcoins relative to BTC.
Bitcoin dominance is trading in a range
Bitcoin dominance has ranged from 39.50% to 48% since May 2021. On the weekly chart, we see that the 39.50% level has already been confirmed four times as support (blue circles).
Any bounce from this area has been weaker, resulting in a descending triangle pattern appearing on the chart.
BTCD price has been rejected three times by the resistance level set by the descending line of this triangle (red circles).
The exception was the multi-week period from May to June 2022, when declines in the cryptocurrency market caused Bitcoin to strengthen against altcoins, which suffered more.
However, the move turned out to be fake and Bitcoin dominance resumed trading in a descending triangle structure.
Currently, bitcoin dominance is struggling to break out of the minor 41.50% resistance area. If successful, the first area of ​​resistance will be in the 42.50% to 43% range.
It is in confluence with the descending resistance line and the 0.382 Fib retracement level.
BTD.D chart from TradingView
The weekly technical indicators are moderately bullish. The RSI is in the neutral zone near 50 and rising. The MACD is about to form a bullish cross on a signal line and generate a green momentum bar.
BTCD ongoing breakout
On the daily chart, we see Bitcoin dominance attempting to close the daily candle above the 41.50% resistance. If successful, we should expect a move to the second area of ​​resistance at 44.50%.
Previously, this level repeatedly acted as resistance and support. Additionally, it is in the golden pocket area between the 0.5 and 0.618 Fib retracements, the most common correction target.
Daily technical indicators support the possibility of a continuation of the upward movement. The RSI is rising and is about to enter the bullish zone. The MACD is generating more green bars with bullish momentum.
And the Bollinger Range Percentile (BBWP), which measures an asset's volatility, provides an upside signal for expansion. This further reinforces the strength of BTCD's bullish move and the possibility of Bitcoin further strengthening against altcoins.
BTC.D chart from TradingView
Cryptocurrency trader @icryptomonk tweeted a BTCD chart suggesting that Bitcoin's dominance is currently breaking the aforementioned resistance level. Therefore, "he expects ALT/BTC to continue bleeding for the next few days."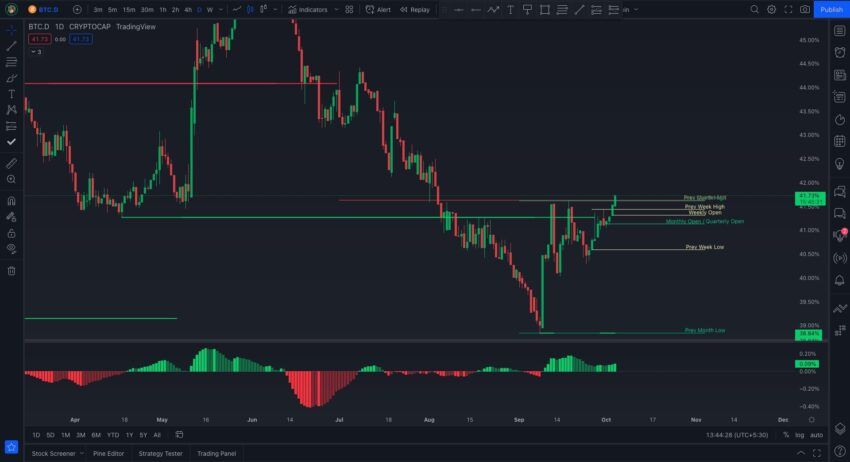 Source: Twitter
Ethereum (ETH) loses to Bitcoin (BTC)
The ETH/BTC pair has been in an uptrend since bottoming at 0.049 BTC on June 13. Since then, Ethereum has gained 74% against Bitcoin in anticipation of the merge update that marked the network's transition from proof-of-work to the proof-of-stake protocol.
However, just prior to September 15th and the update going into effect (blue arrow), ETH/BTC started depreciating sharply. So far, the drop has led to support at 0.067 BTC at a 0.5 Fib retracement. This represents a 21% drop from the peak at 0.085 BTC.
ETH/BTC chart by TradingView
The start of Ethereum's declines against Bitcoin coincided with the bottom of Bitcoin's dominance just below the 39% mark. If BTCD clears the resistance outlined in the previous section, a further decline in the ETH/BTC pair should be expected at least until the next support area at 0.063 BTC.
On the other hand, in the event of a short-term bounce, a move to the 0.072 BTC area is likely and a confirmation of resistance before further declines.
To be[in]Crypto's Previous Bitcoin (BTC) Analysis, click here.
Disclaimer: Sei[in]Crypto strives to provide accurate and up-to-date information, but accepts no responsibility for missing facts or inaccurate information. You agree and understand that you should use this information at your own risk. Cryptocurrencies are highly volatile financial assets, so do your research and make your own financial decisions.
Disclaimer
All information contained on our website is published to the best of our knowledge and belief and for general information purposes only. Any actions taken by the reader based on the information contained on our website are entirely at your own risk.
Learn Crypto Trading, Yield Farms, Income strategies and more at CrytoAnswers
https://nov.link/cryptoanswers