This daily round-up provides you with a selection of the latest news and updates on the COVID-19 coronavirus pandemic, along with tips and tools to help you stay informed and protected.
Top Stories: India Adopted 1 Billion Doses Of Vaccine Doses; Italian study finds that only very old or sick people die from COVID 19 if vaccinated; The U.S. FDA approves the Moderna and Johnson & Johnson COVID-19 vaccines for booster doses.
1. How COVID-19 is affecting the world

Confirmed cases of COVID-19 have exceeded 242 million worldwide, according to Johns Hopkins University. The number of confirmed deaths is more than 4.92 million. According to Our World in Data, more than 6.72 billion vaccine doses have been administered worldwide.
New Zealand has reported a record daily increase in COVID19 cases for the second time in three days, with 102 new infections.
UK Health Secretary Sajid Javid has opposed doctors' calls for a return of restrictions, known as a "Plan B", but warned that this could change if more people stop taking up the vaccination offer. The country reported 223 new deaths from COVID-19 on Tuesday, the highest daily number since March, and the cases are the highest in Europe.
It came as a descendant of the Delta COVID-19 variant that was being tested in the UK to assess the level of threat it posed. However, according to the BBC, this is not yet seen as a worrying variant.
Ukraine has also reported a record daily increase in new COVID-19 cases and COVID-19-related deaths, with 22,415 new cases and 546 deaths.
The United States has now donated more than 200 million doses of COVID-19 vaccine to more than 100 countries, the White House said.
Japanese company Shionogi & Co Ltd has announced phase II / III trials for its COVID-19 vaccine candidate.
The French lower house of parliament voted to extend the measures of the COVID-19 health passport until at least July 31, 2022. The passport shows that the holder has been vaccinated against COVID-19 or has recently tested negative.
The Pan American Health Organization has urged countries to allow vaccinated travelers entry regardless of vaccination to prevent discrimination and facilitate business.
Poland plans to make the booster doses of COVID-19 available to all adults in the next few weeks, Prime Minister Mateusz Morawiecki said.
The Czech Republic will introduce new restrictions due to the increase in COVID-19 cases.
The U.S. Food and Drug Administration has approved booster doses of Moderna and Johnson & Johnson's COVID-19 vaccines. It also said that Americans could choose a different vaccination than their original vaccination for their booster vaccination.
The World Health Organization has warned that the COVID-19 pandemic will last longer than necessary due to injustice in vaccines. This means that it could "easily drag on into 2022".
How COVID-19 cases rise and fall worldwide.
Image: Our world in data
2. India delivers 1 billion COVID-19 vaccine doses

India has passed a COVID-19 vaccine milestone by administering 1 billion doses, the government announced today.
India's vaccination campaign caught three quarters of its 944 million adults with at least one dose, but only 31% with two. The government wants all adults to be vaccinated this year.
"India is making history," Prime Minister Narendra Modi said on Twitter. "We are witnessing the triumph of Indian science, entrepreneurship and the collective spirit of (1.3 billion) Indians."
Almost 90% of vaccines administered in India come from the Serum Institute of India (SII), which makes a licensed version of the AstraZeneca drug. SII has more than tripled its capacity since April and can now produce 220 million vaccine doses per month.
Each of our Top 50 Last Mile Social Enterprises and Multi-Stakeholder Initiatives work in four priority areas of need: prevention and protection; COVID-19 Treatment and Relief; including access to vaccines; and livelihood security. The list was jointly curated with regional hosts NASE by Catalyst 2030 and the Aavishkaar Group. You can find their profiles at www.wef.ch/lastmiletop50india.
Top Last Mile Partnership Initiatives You Can Work With: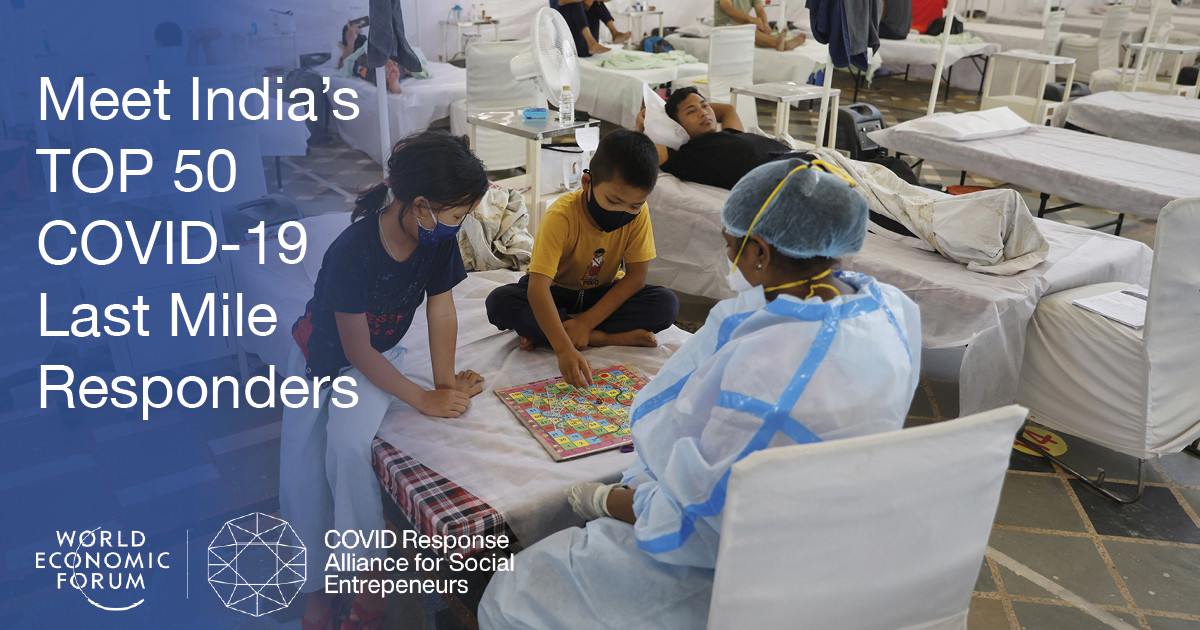 3. Only very old or sick people die of COVID-19 if they are vaccinated – Italian study

It is very unlikely that people vaccinated against COVID-19 will die of the disease unless they are very old and seriously ill before they became ill, a study in Italy showed on Wednesday.
The National Health Institute (ISS) study, included in a regular ISS report on COVID-19 deaths, shows that the average age of people who died despite being vaccinated was 85. On average, they had five underlying diseases.
The average age of death of those not vaccinated was 78 years, with four previous illnesses. Cases of heart problems, dementia, and cancer were higher in the sample of deaths among those vaccinated.
The analysis, conducted February 1 through October 5 this year, examined the medical records of 671 unvaccinated COVID deaths and 171 fully vaccinated.
Written by
Joe Myers, Author, formative content