This daily news bulletin provides you with a selection of the latest news and updates on the COVID-19 coronavirus pandemic, along with tips and tools to help you stay informed and protected.
Top Stories: New restrictions introduced in the Netherlands; China's Zero Tolerance Policy Against COVID-19 To Be In Place; The US CDC approves the use of the COVID-19 vaccine for 5-11 year olds.
1. How COVID-19 is affecting the world

Confirmed cases of COVID-19 have exceeded 247.7 million worldwide, according to Johns Hopkins University. The number of confirmed deaths has now exceeded 5.01 million. According to Our World in Data, more than 7.1 billion vaccine doses have been administered worldwide.
South Korea has announced it will step up COVID-19 tests in schools after a sharp spike in infections among children – weeks ahead of a plan to fully reopen schools.
The Health Council of the Netherlands has recommended that adults aged 60 and over receive a booster vaccination against COVID-19.
Unvaccinated people in Greece must have a negative COVID-19 test to gain access to government services, banks, restaurants and retail stores. It comes as the cases hit a new daily record on Tuesday.
Indonesia's economic growth is expected to have slowed significantly in the third quarter as restrictions imposed to prevent the spread of the delta-COVID-19 variant slowed any recovery, a Reuters poll found.
The UK has reported its highest daily number of COVID-19 fatalities since March – 293 – despite authorities warning it could contain two days of data.
Ukrainians who knowingly use or manufacture fake COVID-19 vaccine certificates face fines or prison terms due to new laws passed in parliament yesterday.
Several Russian regions are considering adding additional restrictions or extending job closings to combat a surge in COVID-19 cases. A partial nationwide lockdown has already been reintroduced.
The director of the U.S. Centers for Disease Control and Prevention has endorsed the widespread use of the Pfizer / BioNTech COVID-19 vaccine in children ages 5-11.
New confirmed COVID-19 cases per million people in selected countries every day.
Image: Our world in data
2. The Dutch government reintroduces face masks if COVID-19 cases increase

The Dutch government yesterday announced the reintroduction of some COVID-19 measures, including the wearing of face masks. The measures are designed to slow the spread of new COVID-19 cases, Prime Minister Mark Rutte said.
The use of a "corona passport," showing evidence of a COVID-19 vaccination or a recent negative coronavirus test, would be extended to public places like museums, gyms and outdoor terraces from November 6, Rutte said.
COVID-19 cases last week reached their highest level since July, with many hospitals being forced to cut back on regular care to make way for urgent COVID-19 cases.
Rutte called on residents to adhere to basic hygiene rules – whether vaccinated or not – and to stay at home in the event of possible symptoms. "Our own behavior is crucial, a very large part of our coronavirus policy depends on it," he said.
3. Zero tolerance COVID-19 policy should remain in China

A zero-tolerance approach to local COVID-19 cases in China is to be maintained, some experts said.
To prevent local cases from becoming larger outbreaks, China has developed and continuously refined its arsenal to fight COVID – including mass testing, targeted bans and travel restrictions.
"Politics (in China) will remain in place for a long time," Zhong Nanshan, a respiratory disease expert who helped formulate China's COVID strategy in early 2020, told state media. "How long it will take depends on the global virus control situation."
He said the current global death rate of 2% is intolerable in China: "Zero tolerance indeed costs a lot, but the virus costs more to spread."
Each of our Top 50 Last Mile Social Enterprises and Multi-Stakeholder Initiatives work in four priority areas of need: prevention and protection; COVID-19 Treatment and Relief; including access to vaccines; and livelihood security. The list was jointly curated with regional hosts NASE by Catalyst 2030 and the Aavishkaar Group. You can find their profiles at www.wef.ch/lastmiletop50india.
Top Last Mile Partnership Initiatives You Can Work With: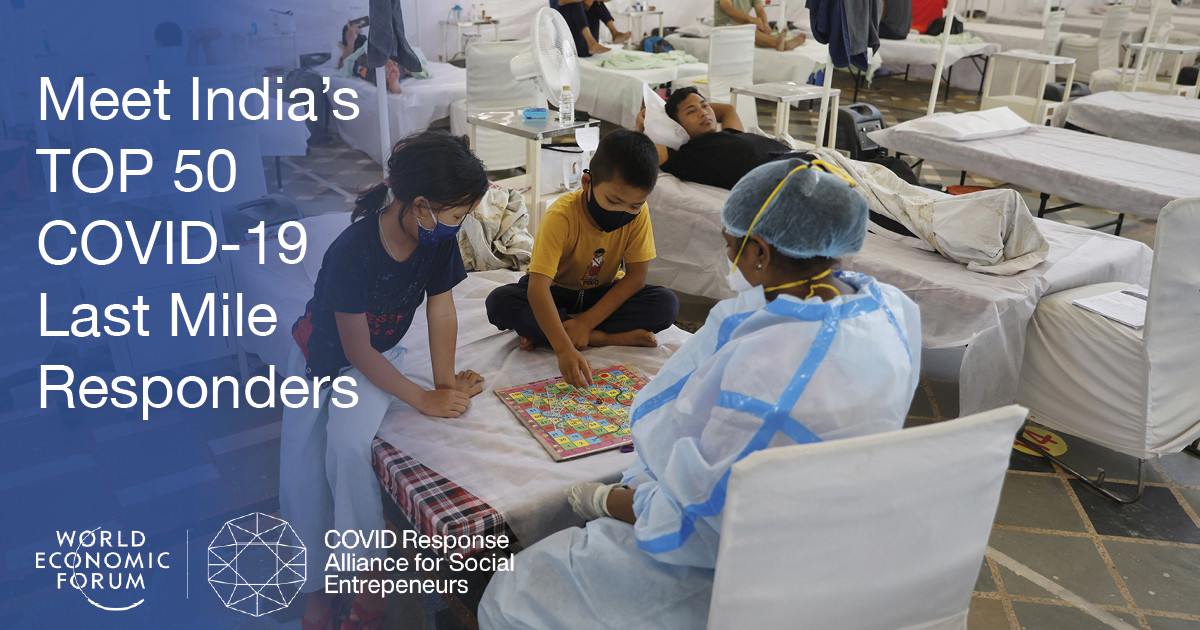 Written by
Joe Myers, Author, formative content