This daily news bulletin provides you with a selection of the latest news and updates on the COVID-19 coronavirus pandemic, along with tips and tools to help you stay informed and protected.
Top Stories: Global COVID-19 Deaths Cross 5 Million; Emergency medical equipment donations reach Latvia; New restrictions in the Netherlands, Ukraine.
1. How COVID-19 is affecting the world

Confirmed cases of COVID-19 have exceeded 247.1 million worldwide, according to Johns Hopkins University. The number of confirmed deaths has now exceeded 5 million. According to Our World in Data, more than 7.07 billion vaccine doses have been administered worldwide.
The United States has started rolling out the Pfizer / BioNTech COVID-19 vaccine to children ages 5-11.
Novavax's COVID-19 vaccine has been approved for emergency use in Indonesia and its CEO told Reuters that he expects decisions in India, the Philippines and elsewhere within weeks.
Bahrain has approved the Pfizer / BioNTech COVID-19 emergency vaccine in children ages 5-11.
Zimbabwe has approved the Sinovac Biotech Covid-19 vaccine for 16- and 17-year-olds.
The Netherlands will be imposing new COVID-19 restrictions this week to curb the recent surge in infections.
Japan has confirmed plans to gradually ease COVID-19 border restrictions, with the first changes possibly coming next Monday.
Sydney will early lift further COVID-19 restrictions on vaccinated residents next week – but delay easing restrictions on unvaccinated residents.
Greece has reported a record increase in new confirmed COVID-19 cases in one day – 5,449.
The Ukrainian capital, Kiev, has put tough new COVID-19 restrictions in place to deal with a surge in new cases.
New confirmed COVID-19 cases per million people in selected countries every day.
Image: Our world in data
2. Latvia receives emergency medical equipment amid spike in COVID-19 cases

Latvia has received shipments of medical supplies from the Netherlands, Finland, Hungary and Sweden as it battles a surge in COVID-19 cases and hospital stays.
The Baltic country of 1.9 million people filed an application with the European Union last week for more than 130 ventilators and hundreds of vital signs monitors, the BNS news agency reported.
Over 1,500 people were treated in Latvian hospitals on Sunday, more than ever before, reported the public broadcaster. The country reported 1,641 new cases per 100,000 population in the week ending October 24, the worst rate in the EU of 27 member states, data from the European Commission shows.
"In peacetime, no country has the capacity to cope with such a crisis," wrote the Latvian Health Minister Daniels Pavluts on Twitter and thanked the countries for their donations.
3. Worldwide confirmed deaths exceed 5 million

According to the Johns Hopkins Coronavirus Resource Center, confirmed global COVID-19 deaths have exceeded 5 million.
Cumulative confirmed COVID-19 deaths worldwide.
Image: Our world in data
Nearly 400,000 deaths have been reported in the past 28 days. The United States has reported the highest number of COVID-19 deaths since the pandemic began, at 747,033.
Brazil reported 607,922 while India reported 458,437.
Each of our Top 50 Last Mile Social Enterprises and Multi-Stakeholder Initiatives work in four priority areas of need: prevention and protection; COVID-19 Treatment and Relief; including access to vaccines; and livelihood security. The list was jointly curated with regional hosts NASE by Catalyst 2030 and the Aavishkaar Group. You can find their profiles at www.wef.ch/lastmiletop50india.
Top Last Mile Partnership Initiatives You Can Work With: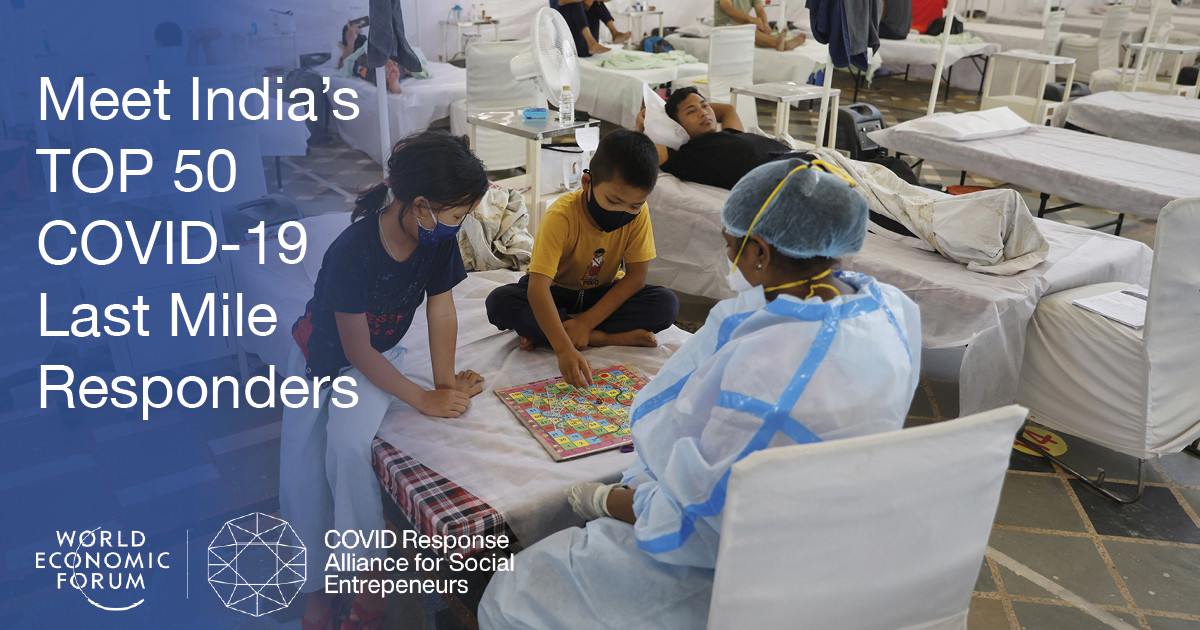 Written by
Joe Myers, Author, formative content