Breadcrumb Trail Links
local news
Nutrition & Fitness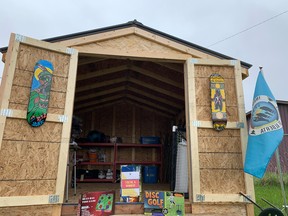 University of Alberta students have created a SHED (Spiritual Holistic Practice Cave) to increase access to sports and recreational activities on the Kapawe'no First Nation. Photo by Tracy Whatmore /delivered
content of the article
Sheds may conjure up images of gardening tools and old lawn mowers, but some competing students have repurposed the name and stuffed one with tools for fun in a First Nation community northwest of Edmonton.
advertising 2
This ad has not yet loaded, but your article continues below.
content of the article
Working with Indigenous mentors, University of Alberta students designed the structure to store and access sports and recreation equipment, as well as arts and crafts materials. They called it SHED (Spiritual Holistic Practice Cave) and installed it at Kapawe'no First Nation, northwest of Lesser Slave Lake.
Students from the university's Department of Kinesiology, Physical Education and Recreation pitched the idea in a case competition as part of their internship, where participants had to design a solution to a challenge posed by an organization. In this case, they worked with the Indigenous Sports Council of Alberta (ISCA), which is helping to break down barriers that limit Indigenous people's access to sports and recreation.
advertising 3
This ad has not yet loaded, but your article continues below.
content of the article
Tracy Whatmore, the faculty internship advisor who organized the competition, said the students were responding to survey results collected by ISCA in the communities it served, some of which highlighted a need for sports and physical activity facilities, particularly in reservations and in rural areas.
"The survey results indicated that if such programs or access to equipment existed, these community members would participate," Whatmore said in a phone interview. Out of 22 teams in the competition, the group behind the SHED project met that demand with a first place finish, she added, "and so far the assessment of the project has been surprisingly positive."
With support from a CEWIL Canada grant that funds work-integrated learning, the students spent last winter bringing a pilot SHED to life before launching it at Kapawe'no First Nation in May, Whatmore said.
advertising 4
This ad has not yet loaded, but your article continues below.
content of the article
Similar to Edmonton's Green Shack program, which offers hubs for games and pastimes across the city, SHED has equipment for land-based activities like archery, fishing and hunting, as well as baseball, volleyball and other mainstream sports, Whatmore added .
Students selected content in consultation with the community, Whatmore explained, and included materials for traditional activities like beadwork and games like high kick, a sport in which participants jump vertically to kick a hanging target.
"It had to be co-created," Whatmore said. "It had to reflect what the data shows and it had to have feedback from those living in indigenous communities."
To this end, ISCA also provided student teams with access to indigenous advisors and judges who guided and evaluated their work.
advertising 5
This ad has not yet loaded, but your article continues below.
content of the article
ISCA executive director Jacob Hendy told Postmedia the organization is hearing rave reviews of SHED and interest from several other indigenous communities who are also hoping for their own.
"We'd love to expand if we could get more money," Hendy said over the phone. "Having a one-stop shop to accommodate everything — not many places have that."
Whatmore said she has already applied for another grant to fund an expansion.
The pilot SHED cost about $7,500 fully equipped, she said, and she hopes the students will create four more — a potential boon to communities as well as students who can apply their training in the real world.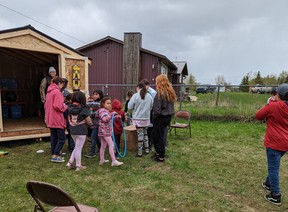 Young people stand in front of a shed that will house sports, games and handicraft equipment at Kapawe'no First Nation. Photo by Tracy Whatmore /delivered
@hamdiissawi
Share this article on your social network
Display 1
This ad has not yet loaded, but your article continues below.
By clicking the subscribe button, you agree to receive the above newsletter from Postmedia Network Inc. You can unsubscribe at any time by clicking the unsubscribe link at the bottom of our emails. Postmedia Network Inc | 365 Bloor Street East, Toronto, Ontario, M4W 3L4 | 416-383-2300
Thanks for registering!
Comments
Postmedia strives to maintain a lively but civilized discussion forum and encourages all readers to share their opinions on our articles. Comments may take up to an hour to be moderated before they appear on the site. We ask that you keep your comments relevant and respectful. We've turned on email notifications – you'll now receive an email when you get a reply to your comment, there's an update on a comment thread you follow, or when a user you follow comments follows. For more information and details on how to customize your email settings, see our Community Guidelines.