LAS VEGAS, Aug. 15, 2022 (GLOBE NEWSWIRE) — Jet Token Inc. announced today that it has secured a $40 million investment commitment from GEM Global Yield LLC SCS ("GEM"), the 3.4 -Billion dollar privately held Luxembourg-based alternative investment group with offices in Paris, Nassau (Bahamas), New York and Los Angeles. Under the Stock Subscription Facility, Jet Token Inc. has the right to sell up to $40 million of common stock to GEM on a periodic basis for a period of 36 months following a public listing of Jet Token's common stock. Jet Token Inc. will control the timing and amount of drawdowns under this facility.
About Jet Tokens
Las Vegas-based Jet Token offers fractional ownership, jet tickets and charter services for the HondaJet Elite S. Through its Argus Platinum operating partner Cirrus Aviation, the company offers jet tickets for a fleet of twenty private aircraft ranging in class from light to ultra-long-haul . Through the Jet Token app (iOS/Android) travelers can search, book and fly our fleet aircraft or with a verified third party. For more information, call Investor Relations: 1-866-694-0014 or Customer Service: 1-800-602-5678 or visit https://www.jettoken.com. Media inquiries: [email protected]
About GEM
Global Emerging Markets ("GEM") is a $3.4 billion alternative investment group with offices in Paris, New York and Nassau, Bahamas. GEM manages a variety of investment vehicles with a focus on emerging markets and has completed over 480 transactions in 70 countries. Each investment vehicle has a different level of operational control, risk-adjusted return and liquidity profile. The family of funds and investment vehicles offers GEM and its partners exposure to: small-mid cap management buyouts, private public equity investments and select venture investments. For more information: https://www.gemny.com.
Related Images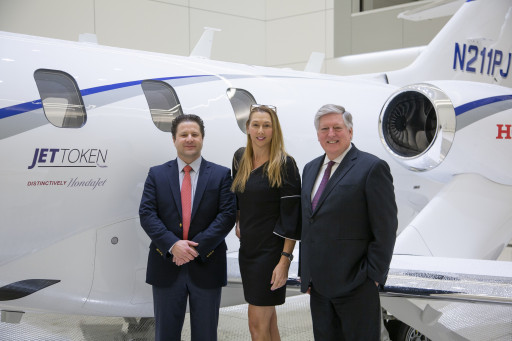 Image 1: Jet token administration team
Left to Right: Executive Chair – Mike Winston, Head of Sales – Brenda Paauwe-Navori and CEO – George Murnane
This content was distributed via Newswire.com's press release distribution service.
Jet token administration team