People walk on a sidewalk in Salt Lake City on October 10. Salt Lake City Downtown Alliance leaders say leisure visits to downtown Salt Lake City are nearing pre-pandemic levels, while office worker visits are still just 54% of 2019 levels (Ben B. Braun, Deseret news)
Estimated reading time: 5-6 minutes
SALT LAKE CITY — Visits to downtown Salt Lake City are slowly approaching pre-COVID-19 pandemic levels, but it appears that the reasons people come to the city's core have changed over the past three years .
Leaders from the Salt Lake City Downtown Alliance and the Salt Lake City Cultural Core briefed the Salt Lake City City Council Tuesday on trends and future plans. Dee Brewer, executive director of the Salt Lake City Downtown Alliance, acknowledged that downtown's economic drivers have turned around — at least for now.
"Our downtown economy is changing," he said. "The social economy is growing… and new office worker patterns are driving change."
A new driver for downtown activities
Offices greatly boosted the economy in downtown Salt Lake City until the COVID-19 pandemic led to lockdowns in March 2020, and many employers chose to work remotely for safety reasons. Since then things have been slowly picking up again.
Visits by office workers lasting more than 45 minutes in downtown Salt Lake peaked at about 60,000 between March 28 and September 19, according to the Salt Lake City Downtown Alliance unveiled on Tuesday. That's a significant drop from data from a similar period in 2019.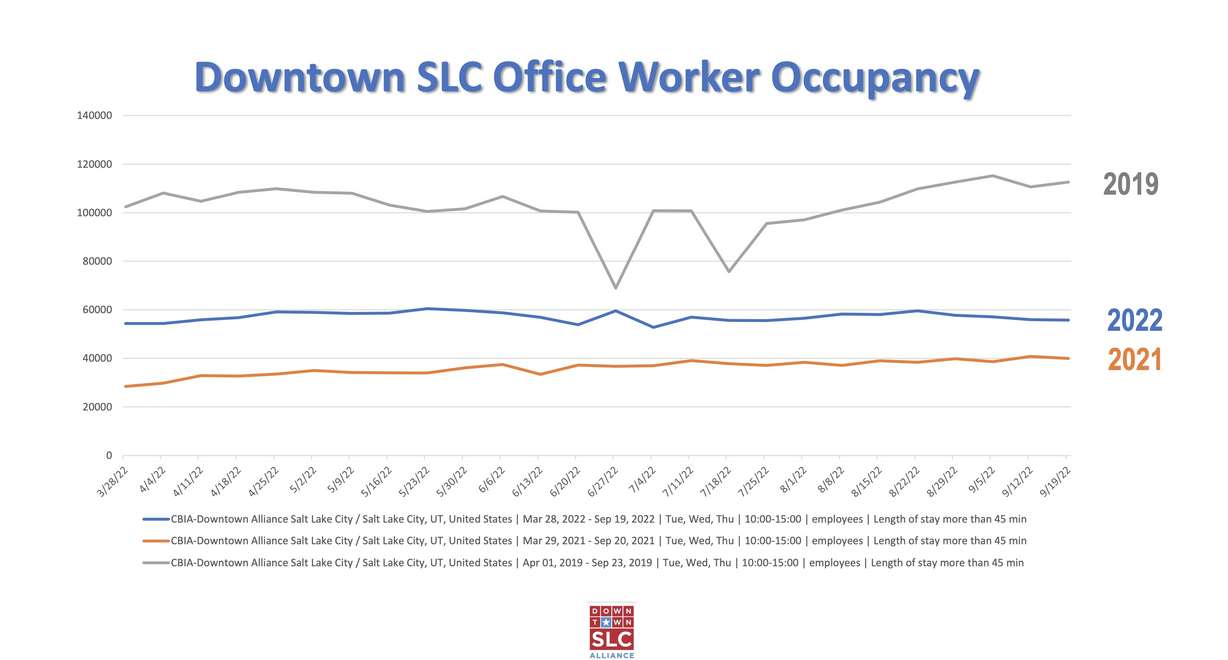 This chart shows the six-month occupancy trends for office workers in downtown Salt Lake in 2019, 2021, and 2022. According to the Salt Lake City Downtown Alliance, this year's level is 54% of 2019's level. (Photo: Salt Lake City Downtown Alliance)
Worker occupancy generally brought about 100,000 people in the spring and summer of 2019, including peaks that fell just below 120,000 people. Ultimately, worker utilization has only recovered to about 54% of September 2019 volume.
"We have about half the office workers on any given day than we did three years ago," Brewer said. "In the past, our inner-city economy was very much shaped by the presence of these office workers."
Conversely, stays in the social economy—visits to restaurants, bars, and other downtown activities—perform much better. That statistic stayed close to 2019 numbers over the summer, even peaking at nearly 400,000 people on September 19, roughly the equivalent of two summer 2019 event spikes.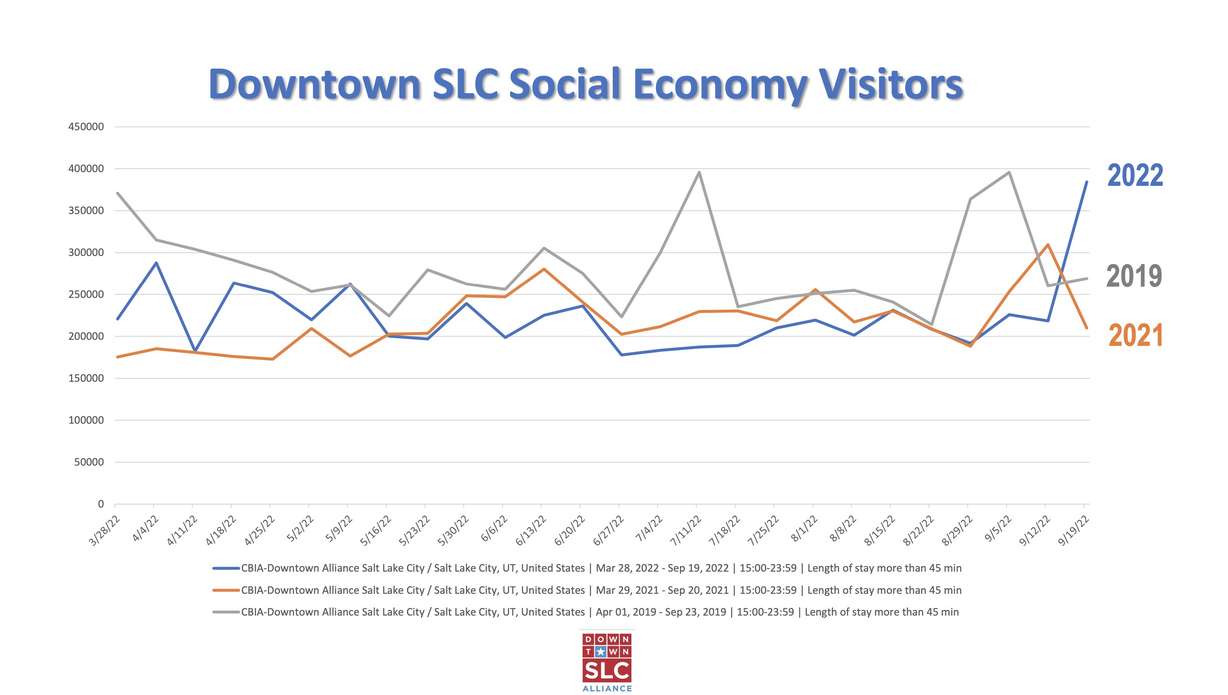 This chart shows six-month social economy visitor trends in downtown Salt Lake in 2019, 2021, and 2022. According to the Salt Lake City Downtown Alliance, this year's level is 82% of 2019's level. (Photo: Salt Lake City Downtown Alliance)
The number of visitors to the city is now back at 82% of pre-pandemic levels in September 2019.
"Visits to the night economy really drive downtown economic returns," Brewer said, later adding that volumes at downtown restaurants and bars are now "on par" with 2019 levels.
The social economy is expected to grow even more as business conventions return to pre-pandemic levels. The Outdoor Retailer trade show returns to Salt Lake City next year, while Salt Lake City is also hosting the 2023 NBA All-Star Game. Both highlight the types of top attractions that are likely to drive downtown visits.
But there were also plenty of arts, entertainment, and business options that helped fuel a boom in the social economy. For example, the Downtown Alliance notes that responses to recent events show attendees come from across the region, not just from other parts of the city.
A brand of Salt Lake City's cultural core, The BLOCKS aims to promote cultural and artistic events and programs in the city's downtown area. These include music events in downtown public areas and the wintry art installations at Gallivan Plaza.
The Salt Lake City Downtown Alliance sponsors other events such as the Salt Lake City Downtown Farmers Market and Open Streets. Market organizers said spending at the market is up 20% this year compared to 2019, while Open Streets – where Main Street is closed to motor vehicle traffic – traces its roots to demand for open space at the heart of the COVID-19 had pandemic.
Together, the two groups create new incentives for people to visit the city center.
"(It) has brought so much to our city in terms of vitality, community and also incredible economic development opportunities, especially during a very difficult time that has been recovering," said Lorena Riffo-Jenson, the interim director of the Salt Lake City Office of Economic Development .
How long will the trend last?
It is worth noting that this phenomenon also occurs in other cities. However, Brewer says he doesn't know if this is a short-term or permanent change in how people land in downtown Salt Lake City.
The city's central business district is becoming more livable, which he said will likely continue to attract visits to the social economy. The downtown core remains on track to double in size over the next three years as more apartment complexes and high-rise buildings are completed.
There are even two projects aimed at converting old office space in Salt Lake City into apartments. These are the South Temple Tower and the old CenturyLink data center at 200 South.
"I think you're going to see more Class B office space being converted into living quarters," Brewer said. "Class A offices are doing well. But Class B really suffered."
Given the relatively stable demand for newly built and desirable Class A office space, Brewer adds that he believes there will be a kind of "natural evolution" that will result in at least some work moving to traditional office space. However, he admits that it is an economic issue that is really out of the Downtown Alliance's control.
"I think for a young worker in an office, if they're ambitious and want to grow, it's important to be there," he said. "I think that will lead to greater participation in the office. That's something our team can't pull any levers on."
×
similar posts
The latest stories from Salt Lake County
Carter Williams is an award-winning reporter covering general news, nature, history and sports for KSL.com. He previously worked for the Deseret News. He is a Utah transplant next to Rochester, New York.
Other stories that might interest you